This Chic Maxi Dress Has More Than 2,700 Glowing Reviews On Amazon — & It's Only $24
Amazon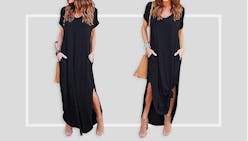 The perfect everyday dress that can take you from lounging to work to dinner without a wardrobe change is one of the ultimate holy grails of fashion. This mythical piece would be comfortable, look great, and work in almost any and all situations. It'd be easy to care for and not wrinkle easily. A fashion urban myth? Well, not according to thousands of shoppers who say that the dress might have just been found on Amazon, of all places. Yes, the same place you buy kitchen gadgets, electronics, and books also sells this maxi dress that has more than 2,700 glowing ratings — and it's just $24!
"Saw this dress on a fashion blogger and had to purchase," raves one reviewer. "I literally wear this every week since I bought it."
Another person who has it "in a few colors" says: "This is the cutest maxi dress and has pockets. I get stopped every time I wear this dress and tell people Amazon and they buy it."
As the posted pictures of real-life women wearing this dress prove, this piece works on a wide range of bodies because of the classic shape, draping fabric, and stretch from the 5 percent spandex in the material. Even petites have been thrilled with the length — a rarity when it comes to maxi dresses. "I'm 4'11'', I looked long and hard ... to find one that seemed to be on the shorter side, so that it would be a maxi on me," one customer wrote. "This is it."
Considered accents like a V-neck in the front and back, and slits on both sides, also add to its flexibility as well as giving it extra flow, swing, and breathability. Though it's shorter than some other maxi dresses out there, those who are taller found that the slits and length worked well together. "Perfect for those of us who are a little taller!" one customer said. "The side slits are great as they allow [movement] in the legs and they aren't too high."
A 5-foot-7 pregnant shopper wrote: "I love this dress! After seeing a blogger post about it on Instagram, I decided to give it a try!... The fabric is super comfy and stretchy so I plan to get a lot of wear out of this dress as the bump grows!"
Available in short- and long-sleeve versions and more than 20 colors or patterns from elegant black (a great backdrop for statement accessories) to vibrant florals, there are lots of ways to mix this into your collection. One style blogger even tied the front to shorten it, show off her sandal flats, and add a dash of casual cool. And yes, it has pockets.
Travelers loved how wrinkle-resistant this machine-washable dress was, too. "I forgot I had tossed it in in a bag when it came and it sat there completely wadded up for 2 weeks. When I pulled it out, I was amazed to find it completely wrinkle-free," says a fan. Plus, it's a versatile staple that can double as a beach or pool coverup.
With sizes from X-Small to XX-Large, it's an easy-to-wear piece that — especially at less than $25 — is easy to love, too. If you need it quickly, it's available with free two-day Prime shipping. No wonder its the best-selling women's fashion item on all of Amazon.
The Zoe Report may receive a portion of sales from products purchased from this article, which was created independently from The Zoe Report's editorial and sales departments.