These Stylish Couples At The 2018 Emmys Prove Laughter Is The Key To Love
Matt Winkelmeyer/Getty Images Entertainment/Getty Images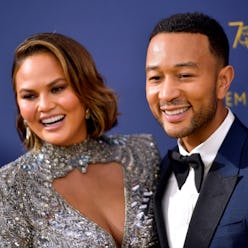 They say that laughter is the best medicine. Well, when you sprinkle in a red carpet and one of the many stylish couples at the 2018 Emmys, things get downright healing. Yes, in addition to the stunning gowns, jaw-dropping jewelry, and seriously good hair, the event's dynamic duos brought the comedy via red carpet antics, on-stage banter, and, of course, Instagram posts.
It seems September 17 was date night for everyone's favorite A-list couples, including Chrissy Teigen and John Legend, Jessica Biel and Justin Timberlake, Sterling K. Brown and wife Ryan Michelle Bathe, and Amy Sherman Palladino and Daniel Palladino. The couples sparkled in more ways than one as they poked fun at each other and thanked each other hilariously in their acceptance speeches (here's looking at you, Sherman Palladino).
Studies find that shared laughter is "positively associated with global evaluations of relationship quality," and the night's golden couples proved this point perfectly. And while Emmys viewers love a heartfelt romantic moment, it's the lighthearted ones that really shine on award's nights.
To give you a bit of comic relief from all the glam (which is being served up in abundance), ahead you'll find the top moments that made the nation chuckle and cry tears of joy all at once. That's amore!
Chrissy Teigen And John Legend
Legend started off the couple's presentation speech by recalling the past incredible week, causing the always sarcastic Teigen to remark: "We get it — you won the EGOT." Legend quickly followed her jab with, "I was actually talking about our anniversary." Hilarious.
The couple get honorable mention for their pre-show jokes on the red carpet, as well. When asked if her husband was bad at anything, Teigen responded:" I wish you would have written me this before. I would've had a laundry list. Oh my gosh, he's very bad at games where you need speed. Like any kind, where you have to think really quickly, he thinks too long. So no Pictionary, no Scattergories."
Jessica Biel And Justin Timberlake
Besides being stunning to look at, Biel and Timberlake were a full-blown stand-up act at the Emmys. First came Timberlake's promise to do "something obnoxious" if Biel won that evening. (She was nominated for Lead Actress In A Limited Series, but lost to Regina King).
Then, came Biel's hilarious Insta post of the two, with the caption: "Our faces when we learned there's no booze at the #Emmys."
(The couple also got even cuter when they sent son Silas a secret signal on the red carpet, which made for the ultimate cool parent moment.)
Amy Sherman Palladino And Daniel Palladino
Sherman Palladino blew audiences away as she made history by winning back-to-back Emmys for comedy writing and directing for The Marvelous Mrs. Maisel. She then made everyone laugh when she thanked her husband (who serves as the show's executive producer, along with this wife) in the most hilarious way, saying, "You are the Sid to my Nancy, mister!"
The pair is no stranger to creating hit shows together, as they are the masterminds behind Gilmore Girls.
Sterling K. Brown And Ryan Michelle Bathe
Brown got laughs (and swoons) when he openly checked out his stunning wife as they walked the red carpet. No one blames him — she's pure perfection.