These Plus-Size Faux Fur Coats Make Me Look — And Feel — SO Luxe
Khalea Underwood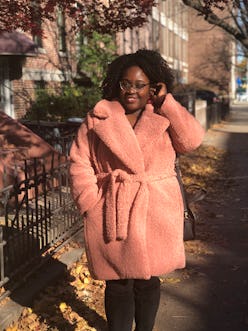 Maybe it's the New Yorker in me, but I love a good coat. At the moment, I'm the proud owner of more coats than jeans, boots, sneakers, or even accessories. Those other wardrobe staples may be relatively easy to find, but since I spend so much time out and about, I don't need them like I need a good coat. When I'm budgeting out what my next purchases will be, I'd rather invest in a fun plus-size faux fur coat that looks good and keeps me warm. This time of year, my coat of choice is the part of my outfit that people see most anyway.
I wasn't always so enthusiastic about outerwear, though. Mainly because the outerwear options in my size were either too plain or just didn't fit right. When I tried to go shopping, there'd only be two or three plus-size options shoved at the end of an overflowing rack. I had one black puffer for cold days, and one brown, threadbare peacoat for special events. Not because I wanted to wear either, but it was all that was offered.
Thankfully, that's not the case anymore. I make up for lost time with loud and proud coats, as soon as the weather dips low enough for me to pull them out. At first, I was a bit hesitant about my shape looking too bulky in a big fur, or the colors being too bright on my dark skin. Now, I prefer bigger and bolder. If I'm going to brave 20-below weather for the next four months, then I might as well have fun with how I prepare, right?
Ahead, see some of my favorite picks for the season, and what I'd wear them with.
I consider leopard print a neutral — it's timeless, and goes with just about anything in my wardrobe. I've had my Torrid quarter-length sleeve coat for about four years now, and it hasn't let me down in all that time. I wouldn't mind upgrading to this maxi-length number from ASOS though.
A coat that fierce deserves an equally fierce bootie. These studded buckle ankle boots from Saint Laurent would pair perfectly with a leather mini-skirt and black tights, or with leggings tucked in, or with rolled-up boyfriend jeans, or with cropped skinnies...
The embellishment on this teal topper is darling — and would eliminate any need to over-accessorize.
I always like the juxtaposition of rugged and elegant, and these destroyed boyfriend jeans would complete the balancing act. For cold weather, I'd style them with tall socks and lace-up boots.
Another fun fact about me: Pink is my absolute favorite color. Which is why I was instantly drawn to this Lane Bryant jacket. In a sea full of neutral-colored goose downs, I can't wait to stand out in my coat of many colors.
There's no particular science to this: Hoops and faux fur just go. These hollow oversized earrings are surprisingly comfortable, and they're photo-worthy too.
I've really been into pajama dressing as of late, probably because I'd much rather be in bed than doing anything else. Who What Wear's oversized "mink" robe is the next best thing to actually wearing my PJs in public.
I'd definitely team my furry coat with a hoodie like this, jeans, and my trusty Adidas Stan Smiths for a lazy day brunch look (when I want to look like I'm trying, but I'm really keeping things low key).
I love this coat so much. So, so much. It's warm, comfortable, pretty, and pink, which pretty much checks off all of my boxes. There are definitely some faux furs that require masterful layering on particularly chilly days, but this coat is supremely cozy, and supremely chic.
It took a long time for me to find a quality pair of wide-width white ankle booties, but man, were these worth the wait. I took these for a test drive (or, uhh... walk) on Monday, the day that I typically hate getting out of bed the most. But my teddy coat, booties, and ruffle-hem jeans (above) were incentive for me to start the week with intention, in style.