These Comfy, Slip-On Shoes Are 56% Off For Cyber Monday — & They Have 14,000+ Reviews
Amaazon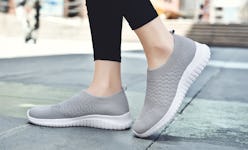 Cyber Monday is here and, to celebrate, we're recirculating some of our favorite finds, now seriously on sale. These comfy, slip-on sneakers have made it into the closets of more than 14,000 women, and are lightweight and blister-proof. You can get them for just $26 (that's 56% off), while sales last.
After a day spent in stilettos or a weekend in strappy sandals, a comfortable pair of slip-on shoes can give your feet much-needed time to recover. But, finding stylish slip-ons that won't give you blisters is no small feat. So when you come across sneakers that fit this bill and have won over more than 10,000 reviewers on Amazon, they're probably worth trying out. Such is the case with these slip-on walking shoes.
Not only are these comfortable mesh sneakers so lightweight and flexible that they make for the perfect travel shoe, but they're also available in 32 different colors, ranging from cobalt blue to dusty rose. These slim-profile shoes fit snugly like a sock and are made of a knit fabric that allows your feet to breathe, so your feet won't overheat on a hot day. Whether you're spending the day touring a new city or just making an iced coffee run, these shoes stay put on your feet and don't slip at the heel. For extra security when you're on the go, a soft elastic band hits right at the ankle and holds these slip-ons in place without digging into your skin or causing any chafing or blistering.
The Zoe Report may receive a portion of sales from products purchased from this article, which was created independently of The Zoe Report's editorial and sales departments.
This article was originally published on