The 5 Key Shoe Styles To Wear To Work This Winter
Pixelformula/SIPA/REX/Shutterstock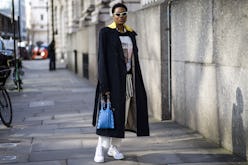 Every office dress code is different — some are sticklers for conservative dressing, others are more laid-back (think jeans and sneakers), and some are just plain creative and funky. But one thing they all have in common? They don't shut down just because the temperatures are slowly creeping downwards — even if a tiny part of you wishes they would. Whether you're an attorney, a programmer, a marketing manager, or a teacher, you still have to show up to work and put your best foot forward. The key: having the right work shoes for the season. Snow boots aside, you'll need a handful of the most comfortable winter work shoes that'll get you through the chillier months both during your commute and once you arrive at the office.
Below, you'll find five shoe styles that will help you navigate from nine to five with your footwear intact. Snow flurries and temperatures below 30 degrees don't mean you have to totally abandon your personal style, so keep your eye out for styles that are comfortable, weather-friendly, but also polished. That way, you can ensure that you can still get your job done without risking a broken ankle (or a note from HR) between now and March.
Tall Boots
You can't go wrong with a classic style and the tall, black boot is one that reappears season after season. Not only will a taller suede or leather boot add something fresh to your usual suit or jeans, it'll also keep your legs warm (a welcome bonus). Go for a classic, sleek over-the-knee style, or for a trendier pick, try boots with a scrunched shaft.
Kitten Heel Boots
Love stilettos? Consider swapping out your usual pair for a more comfortable kitten heel. (They'll probably be easier to walk in should your commute involve snow-covered sidewalks.) While classic taupe or black will be ideal for a more conservative office, burgundies or a dark green will also make the cut. To style them, don't be afraid to go bold, as this versatile shoe works equally well with culotte trousers or a full-length skirt.
Chunky Sneakers
To help keep your feet high and dry on snowy days, add a chunky sneaker into your workwear rotation. Though classic styles like Converse and Vans are great for sunny days, they run the risk of leaving your feet soggy in the rain; with something a bit more reinforced, you'll arrive at the office completely comfortable and dry.
Loafers
For those who work in more conservative offices, you can't go wrong with a classic loafer — whether it be the long-favored Gucci style, or something of-the-moment with cool hardware or a sleek patent finish. While loafers may not be designed to survive inclement weather, they're ideal for chilly days when you want to walk as fast as possible.
Block Heel Ankle Boots
Ankle boots are a winter wardrobe staple that go with everything, and a chunky block heel can help keep you feeling stable as you navigate to work. (Even better: Once you get to the office, you won't need to rush to change out of them before anyone sees your commuting shoes.)