These Comfortable New Jeans Look So Good On Everyone & They're Under $45 On Amazon
Amazon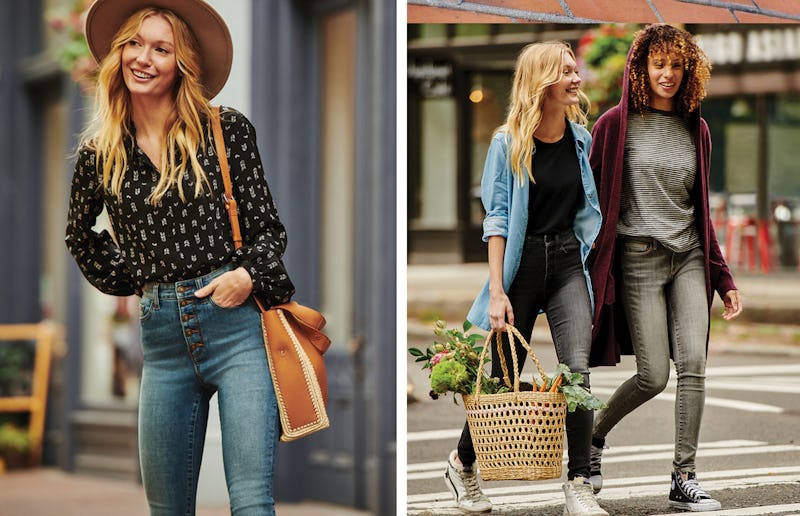 If you've ever struggled to find a pair of great-fitting jeans that are also comfortable, stylish, and affordable, you're not alone. Shopping for jeans is hard — which is why Goodthreads, one of Amazon's new in-house fashion labels, set out to create a line of denim that emphasizes comfort and fit, without sacrificing style. And that's exactly what it has accomplished with its collection of soft, stretchy, and effortlessly cool jeans (which has also expanded into sweaters, tees, and other stylish, yet comfort-forward closet staples).
Though Goodthreads makes jeans in all different styles, colors, and washes, each pair is made with a soft, stretchy denim that holds its shape; it's almost suspiciously comfortable. Goodthreads has taken a similar approach with its tops and knitwear, churning out snug sweaters and lived-in tees that look super stylish but feel as cozy as your favorite loungewear.
The brand's self-proclaimed obsession over crafting the perfect pair of jeans is apparent in the details. From the contoured waists that compliment your silhouette to the range of inseam lengths (short, regular, and long), these jeans were designed to look amazing on everyone. Meanwhile, a hint of elastane in the fabric prevents the jeans from feeling crunchy, stiff, or overly constricting, which is what makes them such a comfortable choice. Finally, cementing their denim-connoisseur cred, the designers looked to vintage collections for inspiration to create their 29 different washes and even developed their own indigo in search of the perfect shade of blue. The results are expertly designed, style-forward jeans, at a price point that's incredible (they're all less than $50).
So, if you're ready to elevate your weekend wardrobe, then continue on to shop a curated selection of Goodthreads jeans and the tops and sweaters to wear with them.