These Are The Most Affordable & Highest-Rated Skincare Products on Amazon
Lumina Images/Fotolia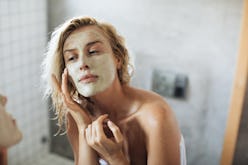 When it comes to skin care products, you can't just throw anything on your face. Finding a formula that will actually work for your skin type, and not exacerbate any existing conditions or trigger breakouts, is a science. It's also important to ensure you're buying a tried-and-trusted product from a reputable brand, which is what makes online shopping so great: Product ratings and the ability to read firsthand reviews from fellow shoppers have changed the game. But to make your beauty shopping even easier, you'll find 36 of the most affordable and highest-rated skincare products on Amazon outlined just ahead.
The method behind narrowing down Amazon's most popular skin care was based mainly on two things: ratings and reviews. Every product on this list has at least a 4.5-star rating with hundreds, if not thousands, of real reviews. And because having great skin shouldn't require blowing your budget, not a single product costs over $25.
If you have a couple of extra dollars to spend, you'll definitely want to read ahead. From mind-blowingly-affordable serums to cult-favorite face masks — and even a couple of nifty tools — these beauty buys might just be the best steals you've ever seen.