These 41 Genius Inventions On Amazon Will Make Cleaning Your Home Easier
Amazon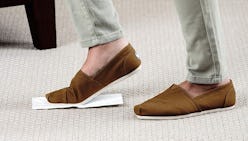 It's no easy task to juggle any combination of work, hobbies, self-care, relationships, and a well-kept house. Oftentimes, household chores end up taking a back seat to the more pressing priorities, and by the time your day off rolls around, the last thing you probably want to do is get on your hand and knees to scrub the bathtub. Fortunately, Amazon — the internet's one-stop-shop for pretty much everything — is full of hidden gems that make cleaning easier.
Over the years Amazon has become synonymous with online shopping, and while it may be a no-brainer to head to the site for home basics like a new phone charger, some pots and pans, or shampoo, you might be surprised to find some of the most clever inventions for cleaning your home that you've ever seen. These niche items have reviewers raving because they're innovative, easy to use, and surprisingly affordable — not to mention they can significantly speed up your cleaning routine; in some cases, they even do the entire job for you.
So, if you, like us, hate spending your Sunday scrubbing grease off pans or mildew off grout, you'll love these genius inventions that make cleaning significantly less miserable.