These $20 Packing Cubes Are The Key To Organizing Your Luggage — & They Have 3,000+ Amazon Reviews To Prove It
Shutterstock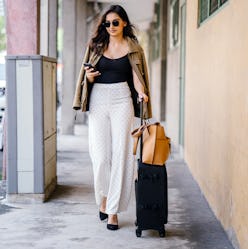 There are a lot of tricks and tips out there on how to make packing easier, but Amazon shoppers are currently obsessed with one tried-and-true item that many claim changed the way they traveled. With more than 3,000 positive reviews and a near-perfect 4.8-star rating, this $20 set of four packing cubes is the most popular travel accessory on Amazon right now.
Made of durable but lightweight nylon, these packing cubes are full of thoughtful touches like double-stitched seams for long-lasting strength, grab handles, a clamshell design for full access to the contents, and rugged double zippers. The mesh tops make a big difference, too. Not only is mesh breathable but the material also makes identifying what's inside and getting the air out when you're packing it in tightly easier. There's even a laundry bag included to keep your clean clothes fresh.
"I usually pack and repack, trying to get it all in, and then have to leave some stuff out, but not with these," a reviewer wrote. "No pulling and pushing stuff back and forth looking for items. Great for organization, and the neatest packing job ever."
Not only do packing cubes help you get more into your bag at a time, they also simplify putting together outfits and help make sure you have everything you need when you arrive.
"These little bags saved my life — went on a trip to Europe for two weeks and didn't want to risk the possibility of lost luggage. I — a person who is well-known for overpacking — fit two week's worth of bulky winter clothing and dinner dresses for a luxurious European cruise IN A CARRY-ON," another reviewer wrote. "The bag/cubes themselves are sturdy and stretch enough to handle heavy clothing and are very pliable. With everything I fit in them, I'm impressed the zippers withstood the pressure... Don't hesitate getting these — they really make a difference."
The secret to making the most of your space and, very importantly, cutting down on wrinkles, is to roll your garments and then tuck them into the bags snuggly. Since your clothes move a lot less inside the packing cubes than in a suitcase without them, they'll be a lot less likely to unroll and wrinkle.
Each set includes four different sizes to make separating your undergarments from your jeans a breeze. This makes packing easier, of course, but also makes your stay a lot more organized. "You can easily just transfer your bags to a drawer or shelf in your hotel room and have your items where you can find them," a shopper who kept "slacks in one bag, tops in another, undies in yet another" explained. Or, use different cubes for different activities: A larger cube for curated outfits to jaunt around the city in, while a smaller cube holds your beach day essentials, for example.
Available in 11 colors and patterns from classic black and navy to fun purple, light blue, polka dots, and even a geometric gray print, they're easy to tailor to your style and luggage. Some customers even got different colors for different family members to streamline unpacking. (For groups, long trips, heavy packers, and anyone who could use a little more storage, these also come in a six-pack packing cube set for $25 that's just as beloved by shoppers.)
Once you're home, the packing cubes are easy to wipe clean and can double as a bag for the gym or toiletries. Available with Amazon Prime's one- or two-day free shipping, these cubes might just be the organizational tool you didn't know you needed but soon won't be able to live without.
The Zoe Report may receive a portion of sales from products purchased from this article, which was created independently from The Zoe Report's editorial and sales departments.