These $19 Leggings Have 9,000+ Glowing Amazon Reviews & Shoppers Are Obsessed
Shutterstock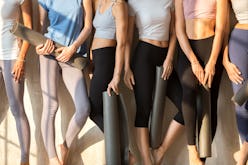 With the rise of athleisure, leggings have become both a workout essential and everyday wardrobe staple. Since they're sweat-wicking one moment and brunch-ready the next, a good pair of workout pants is able to combine style, function, and performance all at once. Perhaps that's why these $19 leggings with pockets on Amazon have amassed something of a cult following. Not only do they offer a sleek silhouette, they also have an incredibly comfortable — and smart — design that makes them nothing if not versatile.
The ODODOS High-Waist Yoga Pants have earned a 4.1-star rating and garnered more than 9,000 customer reviews, and it's easy to see why. The buttery-soft leggings are made of a moisture-wicking fabric blend designed to contour to your body. But, the feature that had fans most excited was, by far, the dual pockets. There are two perfectly placed, deep pockets (one on each side) to store a smartphone, keys, and more. One reviewer gushed that the pockets were "almost unnoticeable, but still sizable," and another fan added, "At first I thought the slant of the pocket opening [was] odd since it's higher in the back but quickly realized it's actually a great design as it helps the phone stay in your pocket when sitting. ..."
The leggings come in a wide range of sizes and colors, from a basic black to trendier lavender to a statement-making mustard. You can also choose from three different dyes (either solid, heather, or space dyed), and two different lengths (capri and full). And since they're reasonably priced, you can buy multiple pairs in different styles to cover a range of needs and seasons. However, it's worth pointing out that some Amazon shoppers found there was a degree of variability when it came to the legging's sheen, with the more mottled colors being shinier. If you're looking for a matte finish, the solid colored options are your best best.
Another reason these pants have become mega popular: their opaque, non-see through material and slight compression fit. "These leggings are excellent quality! They fit nicely and hold you in without being ridiculously compressive. The material is thick and squat-proof!" commented one reviewer. Plus, since they're made with four-way stretch fabric and flatlock seams, they offer chafe-free mobility.
For their low price point, it would be easy to assume that these leggings wouldn't have much staying power, but several reviewers commented on their durability. "These are always my preference, and I've washed and dried a million times, still look great, no pills, no fade," noted one fan. And with so many on Amazon mentioning that they loved these leggings so much that went back and bought more, you might find yourself stocking up on enough pairs for a week's worth of workouts.
The Zoe Report may receive a portion of sales from products purchased from this article, which was created independently from The Zoe Report's editorial and sales departments.