These $17 Aviators Look Good On Everyone — & They Have 5,000 Amazon Reviews To Prove It
javi_indy / Shutterstock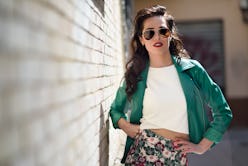 If there's one style of sunglasses that feels perennially chic, it's the iconic aviator. The straight-out-of-Top Gun style feels simultaneously retro and modern all at once, and they're effortlessly stylish, too. Perhaps that's why these $17 aviators have a cult following on Amazon.
Backed by more than 5,000 customer reviews, these sunglasses have garnered an impressively loyal fan base, and it's easy to see why. For starters, they come in 14 different styles and in two widths (large and medium) to accommodate various head sizes. This is a huge plus since many budget sunglasses tend to run large and don't work on smaller faces. You can also choose from a range of lens colors that can be paired with either gold, silver, or black frames — and you have options when it comes to lens shape too. Opt for the classic rounded aviator or a squarer lens, like the chic pair Meghan Markle wore on a recent day out with her son Archie.
If you want a breakdown of the J+S' shade's individual features, the lenses specifically earned high ratings for being scratch-resistant and anti-glare — which can be attributed to the aviator's specialized multi-layer lens technology.
The lenses also come with a UV400 rating to protect your eyes against both UVA and UVB rays, and boast high optical clarity. One reviewer was quick to point out: "Lenses do a good job of keeping the glare out and keeping vision sharp even with the dark tint."
While these sunglasses are affordable enough that you won't feel guilty if you lose them, they're not shoddily made either. These are not like your typical drugstore or convenience store sunglasses found on a display rack. Many reviewers commented on their surprisingly durable frames. One fan gushed, "Construction is solid and much higher quality than the asking price suggests."
The lightweight frames come with spring-loaded hinged legs and adjustable silicone nose pads, so you don't have to worry about them slipping off your face. Plus, as an added bonus, the sunglasses come with a microfiber lens cloth, carrying case, and one-year warranty, as well as a 30-day satisfaction guarantee.
Of course, no pair of sunglasses that costs less than $20 is going to be perfect, and some reviewers did complain that the lenses were too dark for their liking. One customer noted, "These glasses are great for the harsh sunlight and glare but are too dark for everyday use."
But with that in mind, for $17 it may just be worth it to try them out and see why these shades are one of the most popular options on Amazon. Whether you end up wearing them for a weeklong vacation or they become your everyday shade, for that price, you're getting your money's worth.
The Zoe Report may receive a portion of sales from products purchased from this article, which was created independently from The Zoe Report's editorial and sales departments.