Whistles Partnered With This Cult Bag Brand To Bring You The Perfect Fall Styles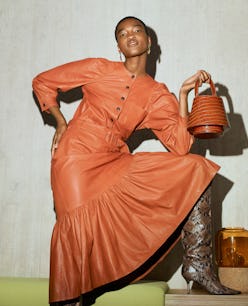 Let's be honest: Would any season be complete without its fair share of It bags? The answer is probably no. After all, a chic, eye-catching handbag can give even the simplest of outfits a touch of cool, elevating it to a status worthy of a street style photo. So when London-based fashion brand Whistles teamed up with Mlouye, a cult-favorite handbag label, to create a new collection of pieces just in time for fall, it's news that's well worth your attention. And to no one's surprise, the Whistles and Mlouye collab is filled with Instagram-worthy styles you'll be rushing to get your hands on.
If you've followed Whistles in the past, you'll know it has a history of creating stylish collaborations with independent emerging brands — especially those that editors, It girls, and fashion lovers alike can't seem to get enough of. In the past, the label has collaborated with cult-favorite brands like By Far and Stutterheim, and its latest partner is no exception to the rule.
Mlouye was founded in Instanbul by creative director Meb Rure and has caught the attention of the fashion industry for its unique and architectural handbags — naming the likes of Gigi Hadid and Atlantic-Pacific's Blair Eadie as famous fans. According to the brand's Mloye's website, the designer has been inspired by the Bauhaus art movement, which explains the brand's innovative use of geometric silhouettes and structure. Just scrolling through the label's Instagram feed will give you a feel for its strong use of bold color, and its latest palette is perfectly suited for fall (think rich jewel tones).
Courtesy of Whistles x Mlouye
Courtesy of Whistles x Mlouye
For its collaboration with Whistles, the accessories label has created six limited-edition bags, which are all handmade in Turkey. The bags each feature a shade from the color palette seen in the Whistles' Fall/Winter 2019 collection, resulting in a capsule — that ranges from $325 to $545 — filled with neutral shades alongside vibrant colors like emerald green and yellow. And when you've got a combination of Mlouye's standout silhouettes like the Helix or the Lantern in rich colors that compliment the ready-to-wear label's lineup, there's no doubt that you won't be able to stop wearing them, both together and apart.
"Mlouye's brand vision is focused on creating timeless products that are unique and intelligent in design," said Whistles' creative director Nick Passmore in a press release. "This resonated so much with us at Whistles, where design, function, and our commitment to change are core values for both our brand and customer." According to Rure, she and her team admire Whistles' aim to create trend-driven pieces that don't compromise on sustainability and quality, two areas where both brands share common principles.
The Whistles and Mlouye collaboration is available at the Whistles retail store in New York if you so choose to peruse the collection in person. If you're not in the area, they'll be sold online at the brand's website, as well. And if you're ready to add these head-turning bags into your fall wardrobe, scroll down to shop them all below.