Meet The Jewelry Trend You'll Be Wearing For The Next Six Months
@rockybarnes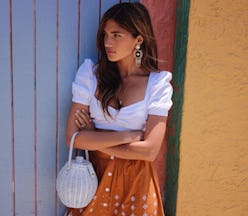 Since Raf Simmons first debuted cowboy boots during Calvin Klein's Fall/Winter 2017 runway show, western-tinged Americana has slowly crept into the fashion ether. Finally it emerged as a full-blown trend in 2018 with the likes of Fendi, Isabel Marant, Altuzarra, and Givenchy (among others) taking part in the fringe-tinged drift. Hefty cowboy boots were suddenly the ideal footwear option to pair with sweeping hemlines, embroidered and paneled shirts were essential with high-rise denim, and a prairie-inspired silhouette was seemingly the only approach to tops and dresses. Understandably, this look can be quite aliening outside the fashion bubble of insiders, influencers, and the like — try wearing it beyond a fashion office and quizzical eyeballs are surely darting your way at work. That's where the western jewelry trend comes in as a subtler and more approachable take on fashion's current fixation with cowboy culture. Streamlined takes on turquoise, hammered and sculptural silver, and inlay detailing is pervading earrings, necklaces, cuffs, and rings — which is in stark contrast to the modern ultra-minimalist yellow-gold pieces that have recently ruled the jewelry world.
Similar to cowboy boots, western jewelry makes a bolder statement than your everyday jewelry, but it can be just as sophisticated with the right approach. "Hand-crafted sterling silver jewelry nods subtly to the western trend but has a much more timeless and simplistic appeal," says Rachael Wang, a stylist and brand consultant who has worked with brands like Mara Hoffman, Nanushka, Universal Standard, and Nike. "A great pair of silver hoops or a sculptural ring is a way to incorporate the trend without having to commit to boots or fringe," she adds, noting hoops by Sophie Buhai and rings by Tapley as her favorites. You can take it in a more authentic direction with hammered or etched metal detailing and oxidized silver.
For more of a traditional dip in the western jewelry pond, turquoise is the way, but fine jewelry designer, Anna Sheffield notes it's not all bolero tie and squash blossom necklaces. "Turquoise and silver are definitely having a moment" says Sheffield, who describes petit point cuffs with stones or bold silver with inlay or sawn patterns as impactful yet timeless western designs. "I think the timeless beauty of precious natural materials and time-honored craftsmanship never goes out of style and this is firmly the case for Southwestern jewelry," Sheffield says.
The designer adds that vintage Native American jewelry is her preferred take on the western jewelry trend, but if you're inclined to go more modern, look for minimal shapes and daintier pieces like unadorned hoops, studs, and stacking rings in yellow gold or versions juxtaposed with diamonds or crystals for a glitzier approach. "People love turquoise," says fine jewelry designer, Caitlin Mociun of the Brooklyn-based jewelry brand, Mociun. "Of my clientele, the people who are drawn to turquoise like delicate pieces, like teeny slivers of turquoise with little white diamonds." Whether you go the authentic or modern route, Mociun notes that natural turquoise is delicate, soft, and porous, which means it can change color or crack when it comes into contact with moisture.
Modern western jewelry might seem easier to pull off with fresh effect, but traditionally made pieces can read just as stylish — it's all about personal preference and having fun. "Like so much jewelry, it's in the wearer's approach to styling and layering that keeps it chic. One will wear loads of this jewelry and achieve that Bohemian, over-the-top look or one can pepper in the pieces with other modern or vintage jewelry keeping the vibe more avant-garde," says Sheffield. "I think with any jewelry or accessories that can be labeled as 'statement', the key to styling them is in the pairing and the paring down," Sheffield adds, recommending bolder baubles with classic pieces like a white button down or V-neck top tucked into a crisp pair of black pants or a simple ankle length skirt. Easy, effortless, and on trend.