WARDROBE.NYC Partnered With MATCHESFASHION.COM So You Can Shop Its Pieces In A Totally New Way
Courtesy of WARDROBE.NYC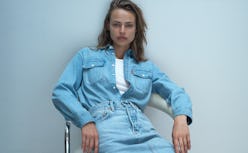 If you think about it, denim has come a long way since its humble beginnings in workwear. After all, what first started as a sturdy material for farmers' clothing has now become the source for everyday fashion staples like jackets and of course, jeans. As denim pieces have continued to evolve with each season of trends, it's become a category that one can never truly have too much of — especially now that the WARDROBE.NYC x Levi's collab has arrived.
According to WARDROBE.NYC's website, the brand is "a conceptual composite of luxury essentials," meaning it focuses on sleek, elevated basics meant to be worn every day — and its latest launch, 04 DENIM, is no exception. Teaming up with Levi's, the New York-based fashion label is reimagining some of the denim brand's classic styles. As a result, WARDROBE.NYC has created exclusive designs of jeans, skirts, shirts, and more in light blue and black washes. And because you'll need pieces to complement the denim, the collection also includes items like trench coats and blazers.
The WARDROBE.NYC 04 DENIM collection is available at the label's store in New York, its website, and on MATCHESFASHION.COM, where shoppers can buy each piece from the capsule — along with items from previous releases — individually, rather than in the sets of four or eight pieces the brand typically sells its clothes in. In other words, you can pick and choose exactly what you want from this launch.
"We've always wanted to create a new take on a classic denim wardrobe ensemble, so having the opportunity to fuse iconic Levi's pieces and washes with our own aesthetic was a really special project for us," said co-founder Christine Centenera in a press release from the brand. And with a WARDROBE.NYC touch on these timeless pieces, you'll have a closet filled with modern basics.
When in doubt, you can never go wrong with a pair of jeans, like the Slim-Leg Jeans for $210. Create a full denim ensemble with the Patch-Pocket Denim Shirt, $240, or wear it with your favorite graphic tee. To add a more professional layer to it, throw the $790 Double-Breasted Merino Wool Blazer over your shoulders.
If you want an updated version of Levi's iconic trucker jacket, you can wear the $340 Denim Jacket with anything you own — including the $180 Denim Mini Skirt. And if you want to play with proportions, style the skirt with the Double-Breasted Belted Cotton Trench Coat, $950, and a pair of boots for an outfit to wear into fall.
Scroll down to see more from WARDROBE.NYC's 04 DENIM collection below. Then head over to MATCHESFASHION.COM to shop for your favorites, which will be available for purchase on the site starting July 31.
Editor's note: This post has been updated from its original version.