Warby Parker's Super Concentric Collection Takes Over Three Months To Make
COURTESY OF WARBY PARKER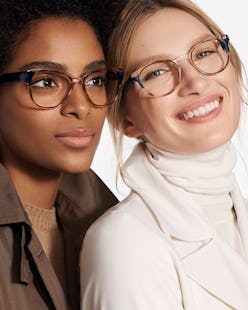 With the start of fall just around the corner the phrase "out with the old, in with the new" may be on your mind. A change of season is the perfect time to refresh your wardrobe and switch up everyday essentials like your eyeglasses. And when it comes to the latter, you're in luck, as the Warby Parker Super Concentric Collection may have the exact pair you're looking for to up your eyewear game.
Known for serving up stylish eyewear at an affordable price point, Warby Parker has just unveiled its latest designs, describing them in a press release as its "most complex to date." You may remember in 2014 Warby Parker released its popular Concentric Collection, which featured a bold ring of acetate around the lenses in a complementary hue. Well, now the brand is taking this concept to the next level with its latest offering. The best part? the collection is available to shop now.
For this new collection, the brand developed a technique that uses seven pieces of acetate in three colors to create multicolored face fronts on three new optical styles. The three colors of acetate are layered on top of each other by hand and fused together to create tri-color blocking and concentric silhouettes. The elaborate design process takes over three months, but results in special styles that are striking yet sophisticated.
The collection is composed of three different silhouettes — The Darrow, The Percey, and The Francis — and starts at $195 (including prescription lenses). Each of the styles incorporates the same color palette that consists of the clear "Crystal," the warm brown shades of "Oak Barrel," and the vibrant deep blue hue called "Blue Bay."
No matter which shape you choose, you'll notice each one finds the balance of being both classic and interesting. So, while they'll certainly bring a lot to your look, they can easily be worn for everyday — and that's a win-win. Even better? Like with any pair of Warby Parker frames, for each pair of glasses purchased, a pair is given to someone in need.
Sold on these specs yet? If so, be sure to visit the label's website or its many store locations to shop the innovative lineup in full.