Bandier's New Collab Will Convince You To Wear Animal Print To Your Workouts, Too
Courtesy of Bandier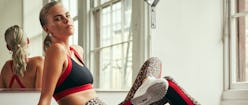 Fasten your animal print seatbelt, because you can now wear fall's most popular trend to the gym. The perfect leopard print leggings and sweatshirt workout set is now here thanks to the Veronica Beard x Bandier collab. With coordinated outfit sets making a big comeback for winter, and leopard print still reigning supreme, this timely collection is about to make your winter workouts so chic.
The capsule collection, which was released on both the Veronica Beard and Bandier websites Nov. 1, consists of 10 pieces of casual athleisure and durable performance wear. The pieces sport plenty of Veronica Beard's playful '80s fashion revival vibes, and it pairs seamlessly with Bandier's athletic wear — because athleisure and '80s style have gone hand-in-hand for decades.
But the capsule is also incredibly modern, with the Veronica Beard x Bandier leopard print leggings for $148 filling the workout wear gap in this season's animal print mania. Bandier has been curating stylish high-quality activewear since 2014 and understands what goes into a good pair of leggings. You can see the brand's eye for performance wear details in the legging construction: the leggings have thick stitching, and the fitted high-rise band won't awkwardly roll down during tricky yoga poses.
The leggings are also 17 percent elastane, so they'll move with you instead of losing shape. "The three active pieces in the collection are as functional as they are stylish," said Bandier founder Jennifer Bandier in a press release. "The leggings and sports bra are made of an optimal poly-spandex blend fabric that can stand up to any workout."
It's the first active fashion line for Veronica Beard, a sultry menswear-inspired brand known for its signature Dickey Jacket — but the brand was ready for the adventure. "Veronica Beard and Bandier both serve as premiere destinations for stylish women on-the-go," said Veronica Beard co-designer Veronica Swanson Beard in a press release. "We are excited to enter the activewear space with a partner that shares our vision of delivering women a compelling lifestyle proposition."
The release will surely satisfy longtime Veronica Beard fans (one of which is the perpetually stylish Meghan Markle) with its release of two new hooded dickeys. Both retailing at $150, the leopard print dickey and camo print dickey are made as interchangeable style companions to the the versatile $600 Veronica Beard Scuba Dickey Jacket. The sharp-witted Dickey Jacket design eliminates struggling to fit bunched-up sleeves under fitted outerwear, for a layered look that won't feel constricting.
"In 2010, Veronica and I launched with our now iconic Dickey Jacket," said Veronica Beard co-designer Veronica Miele Beard in a press release. "This piece has always resonated within the athleisure space, seamlessly merging the ease of comfort with the polish of tailoring."
Wear the leopard print set as a fierce gym outfit, or just on a trip to the grocery store — the beauty of it is that it works either way. "Our mission is to offer women wardrobe solutions that empower them to conquer the many pursuits in their daily lives," Veronica Swanson Beard says. "Whether women are wearing this collection to workout, travel, or run errands, we want them to look and feel good."
Below, all 10 pieces from the Veronica Beard x Bandier capsule collection, available for purchase on Veronica Beard's and Bandier's websites.