This New Uniqlo Collab Will Help You Nail French-Girl Style For Fall (Without Blowing The Budget)
Uniqlo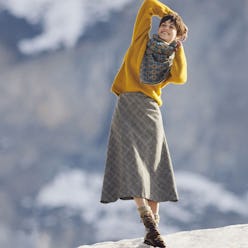 It's no secret that French women carry an elusive air with them wherever they go, particularly when it comes to fashion and beauty. In fact, much of that can be considered the reason behind the fashion industry's obsession with French style. So whenever a brand gives you the chance to effortlessly channel the essence of your favorite French girls — like the Uniqlo x Ines de la Fressange fall 2019 collection — it's worth taking note of.
French style icon Ines de la Fressange has held a longtime partnership with Uniqlo, creating pieces that perfectly nail the French-girl aesthetic. And with her latest collection for the brand, she's bringing a full range of timeless menswear-inspired coats, knitwear, dresses, and more — and all with a subtle hint of vintage trends.
While you may not be prepared to say goodbye to summer for the year, all it takes is one look through this collection to get you excited for the months to come. Between the cable knit sweaters and wool-blend coats — not to mention classic blazers and midi dresses — this capsule has everything you could need as you build your wardrobe for fall. And to make it even better, you can get all of these Parisian-chic pieces for under $150.
Take this time to stock up on pieces you can wear to the office, like this Crepe Long-Sleeve Blouse, which costs $29.90. Style it with the $39.90 Flare Midi Skirt and a pair of knee-high boots, or wear it with classic trousers, like the $59.90 Soft Tweed Wide-Leg Pants. Looking for another great piece to wear to work? The Crepe Printed Wrap Long-Sleeve Dress, $49.90, is one that'll transcend seasons and trends.
Whether you're excited for the temperatures to drop or not, you're going to need new knitwear to bundle up in. Opt for the Middle Gauge Crew Neck Sweater, which is available for $39.90 and also comes in yellow and navy. Or, if you want to wear something that feels reminiscent of Paris in the '70s, opt for the $39.90 Argyle Crew Neck Sweater with a pair of fitted jeans, tall boots, and the $129.90 Soft Tweed Jacket layered on top.
The collection has plenty of pieces to wear when you'd prefer to stay inside and lounge at home, too. Spend your days off in the $29.90 Long-Sleeve Pajamas, which can also double as a matching set with a pair of heels. And whenever you need serious comfort, simply put these $29.90 Sweatpants on and you're set for the day.
Scroll down to see more pieces from the Uniqlo x Ines de la Fressange collection below.