You Can Now Wear LoveShackFancy's Pretty Floral Prints On Your Feet, Too
Superga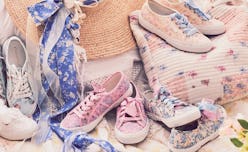 Though there's still some time before the official start of summer arrives, 2019 is practically halfway through. And now that it's reached its sixth month, you're probably well aware of the year's trends, such as whimsical, feminine silhouettes and prints. There are a handful of brands that have been taking on this romantic aesthetic, but none do it quite like LoveShackFancy. And if you've been obsessing over the label's pretty floral prints, pieces from the Superga x LoveShackFancy collab will be just what you need.
To say that LoveShackFancy's pieces are pretty would be an understatement — simply put, they're breathtaking. Known for its vintage-inspired dresses with delicate ruffles, lace trim, and dainty patterns, the New York-based brand has become a staple among fashion lovers everywhere. And with its new collaboration with Superga — which is available on both brands' websites — you can wear LoveShackFancy's signature prints head to toe.
The 10-piece collection is inspired by LoveShackFancy founder Rebecca Hessel Cohen's favorite vacation destinations — St. Tropez, Ibiza, and the Hamptons — and combines the clothing brand's sweet floral prints with the clean and casual design of Superga's shoes. And if you want to get a pair for your little ones, the collaboration includes children's sizes, too.
Thanks to Superga's classic silhouettes, incorporating these pretty shoes into your everyday wardrobe will be easy. Style the Classic Sneaker, which is available for $119 and comes in seven prints, with a pair of relaxed or straight-leg jeans and a cool puff sleeve top for a simple ensemble that feels polished. Or, if you want to dive head-first into LoveShackFancy's idyllic patterns, wear them with one of the brand's iconic dresses for a sweet and summery look. And just when you thought these sneakers couldn't get any prettier, some of these come with ribbon laces.
Of course, what's summer without its fair share of sandals? You can wear the Flat Sandal, which is available in three prints and costs $99, with any outfit you sport this season. Whether it's a lightweight cardigan and wide-leg linen pants or a frilly top with denim shorts, this canvas sandal is sure to add a feminine touch.
Scroll down to see the Superga x LoveShackFancy collection below.