How To Dress For A Summer Party Like A Chanel It-Girl
Lexie Moreland/WWD/Shutterstock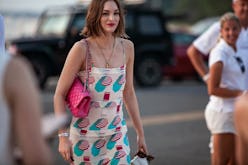 What does one wear to a party on one of the hottest days of the summer? When temperatures creep above 90 degrees, it's hard to want to do much more than sit in the direct path of the nearest air conditioning unit. But, as proven by the attendees at Chanel's J12 Watch event, it is possible to put together a cute summer party outfit even on the warmest days of the entire year. Chanel gathered a fashion-focused crowd to Sunset Beach Hotel on Shelter Island in New York to celebrate the newest iteration of the iconic J12 watch.
To commemorate a new facelift of the iconic timepiece, the French fashion house turned Sunset Beach into the J12 Yacht Club, complete with nautically inspired décor including Chanel surfboards, beach umbrellas, and customized coolers. The brand also invited a host of actresses, influencers, and VIPs to watch the sun dip into the ocean behind giant Chanel sailboats before enjoying a special dinner on the deck of the hotel.
Despite the soaring temps, guests wore their summer best to the event, many attendees in flowy, printed dresses, and airy separates. Staying cool while looking great was the name of the game, and it wasn't easy considering it was still in the 80s well after 10 p.m. A major takeaway from the evening: try sticking to breezy silhouettes while opting for statement accessories to help your look pop. To aid you in your own search for summer party looks, some of the fashionable attendees share their dressing tips below.
Phoebe Tonkin
Actress Phoebe Tonkin opted for a sheer printed look from Chanel's upcoming Fall/Winter 2019 collection. "I am wearing what feels like a very summery dress, but it actually has little skiers on it," she says. "I wanted something that was easy breezy and felt comfortable but also felt like I could move around." During the daytime, Tonkin's summer staples are quite simple. "Denim shorts and a white tee shirt probably stolen from an ex-boyfriend," she says. "They always have the best white T-shirts." For evening, embrace her look by trying a top or dress with sheer ruffles. To finish, think easy mules. "I would like to be able to kick my shoes off and dance," she says.
Kristine Froseth
Actress Kristine Froseth thinks that just because it's hot doesn't mean you should sacrifice what feels authentic to you. Her summer go-to is "anything that is comfortable and the vibe you're going for. Whatever is you." Dressed in a printed silk top and pink pants from Chanel's Spring/Summer 2019 collection, Froseth radiated a youthful summer cool. "It makes me really happy," she said of her outfit. "I wanted to be in a happy mood in this environment, so I chose pink." Opting for a beachy print, like Forseth's sun umbrella top, is a playful way to stand out come party time.
Froseth is no stranger to the heat and humidity given that she spends her summers in Louisiana. "[My style] changes all the time, but right now it's pretty laid-back. Just a casual tank top and shorts." And while she notes that keeping things simple is an easy way to beat the heat, one way you can punch up your wardrobe is with a pop of color. "I do wear a lot of pastels in the summer, always pink."
Rachel Zoe
Editor-at-large Rachel Zoe landed on a full-length, lightweight, Grecian-inspired Chanel dress for the evening — ideal for the intense temps. "I couldn't decide, but this was the lightest," she says of her pick. "It felt like me. You have to go with what you know." She complemented the dress with vintage Chanel earrings and a vintage Chanel bag. "As the temperatures get higher, I jump into caftans, printed dresses, lightweight pieces and tons of gold jewelry. That's my go-to uniform," she says. The stylist-turned designer recently revisited her extensive clothing archive and found some gems she has now incorporated into her summer-ensemble rotation. "I'm wearing a lot of my vintage Missoni, Chanel, and Pucci, and other stuff I haven't worn in a while," she says. "I was in Capri, and I got motivated to go back to my roots and just wearing my happiest things."
Camila Morrone
Model and actress Camila Morrone's look for the night was a beige and white tweed Chanel dress from the Spring/Summer 2019 collection. "Every summer I go for a dress that makes me feel elegant, beautiful, and sexy," she says. "Then I pair it with a bag or a cool pair of sunglasses that are more adventurous. That's basically what I wear for three months out of the year in the summer." By opting for a look in a neutral color palette, the addition of accessories can instantly transform a look from day to night or for multiple occasions. "That's exactly what I'm wearing tonight," she says, "a dress with a really funky bag and then everything else is a little more simple." Seems like a perfect recipe for great summer style.