Steve Madden's Iconic Slinky Sandal Is Returning With A Very 2019 Update
Courtesy of Steve Madden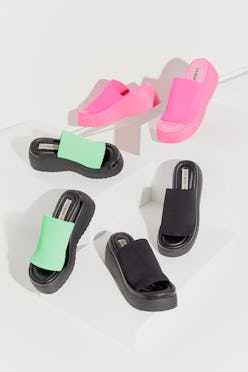 At this point there's no denying it: The '90s are back and they're here to stay — or at the very least, for the foreseeable future. Minimalist slip dresses, chunky sneakers, and peasant tops have already made a strong case for adding some the decade's iconic styles to your closet, but if there's one thing that will fully cement the era into 2019, it's the Steve Madden x Urban Outfitters collab — and it's bringing back the chunky platform sandal.
Like most of the '90s trends that have come back for 2019, the return of Steve Madden's platform sandals can be polarizing. However, considering all the clunky shoe styles that have taken over the fashion industry these days, the brand's Slinky Platform Sandal is the one you might get the most excited about — whether you wore them the first time around or not.
If pure nostalgia isn't enough to persuade you into adding these to your spring wardrobe, just think about the comfort. Available for $70, the Slinky Platform Sandal is a slide that features a stretchy, elastic-like band across the top and a thick, 1.5-inch sloped rubber sole. The collaboration also includes the $60 Platform Thong Sandal, which features mesh straps and a lightweight 2-inch foam sole for a sportier feel.
Before you deem the statement-making sandals too on-the-nose for '90s style in the present day, they've gotten a new twist for 2019 that'll have you think twice before making a decision. Not only do these shoes come in classic black, but they're also available in vibrant neon shades, taking on one of the biggest trends of the year.
The brand's collaboration with Urban Outfitters falls right in line with the season's biggest footwear trend: "ugly" sandals. However, rather than playing into the strappy hiking aesthetic that's bound to be everywhere for over the next few months, Steve Madden's sandals feel decidedly sleeker in comparison.
Styling these elevated sandals for 2019 is easy — you can sport them with a simple graphic tee and a pair of loose-fitting cropped jeans for an effortlessly cool ensemble. Or for slightly more formal occasions, wear them with a floral midi skirt and a denim jacket.
If you're ready to incorporate these iconic shoes into your spring and summer wardrobe, scroll down to shop the two styles, below.