This New FWRD Capsule Is The Only Thing You'll Want In Your Suitcase This Summer
Courtesy of FWRD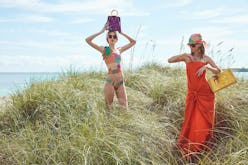 By now, you've probably booked all your major vacations for the rest of the season. And after planning out your itinerary, the only thing left to do is figure out what you're going to wear. While the anticipation of flying to a new destination is always exciting, it goes without saying that the packing period can be somewhat hectic. Thankfully, the Silvia Tcherassi for FWRD capsule has everything you could need for the ultimate vacation wardrobe.
Perhaps you're already a fan of Silvia Tcherassi and her clothing label of the same name. But if not, you're about to fill your bags (and your closet) with everything from this capsule collection. The Colombian designer — who first began her career in interior design — is known as a "pioneer of the Latin flair" in the fashion industry. With vibrant and voluminous pieces, the brand's collections capture the essence of an endless summer. Now, she's bringing her chic pieces to e-tailer FORWARD by Elyse Walker (also known as FWRD).
The exclusive 13-piece collection — which is titled "New Bohemian" — features flowing dresses, vintage-inspired swimwear, woven handbags, and more. Available in bright, colorful shades and tropical patterns, this capsule collection was practically made for your next summer vacation.
Chances are your next summer getaway involves a beach — or at least, a body of water. In which case, pack the Carmit Swimwear Top along with the Danesa Swimwear Bottom, which both cost $160. And when you aren't swimming, style the top with a pair of relaxed, high-waisted jeans. Another chic swimsuit option is the $298 Alicia Bodysuit, which can be worn with shorts or the Bianca Skirt, $890.
As you go sightseeing, stay cool in the $980 Assunta Dress. Made with 97 percent cotton and featuring delicate embroidery stitching, this airy dress is bound to be a favorite of yours throughout the season. If you want to wear something more colorful, you can wear the $990 El Prado Dress with a pair of flat sandals for a day of shopping and drinks at night. And when you're headed out on the town, be sure to take the $490 Luriza Bag with you for a stylish evening ensemble.
Ready to get a head start on packing? Scroll down to see more of the Silvia Tcherassi for FWRD collection below.