11 Honoré's NYFW Show Is Already Shoppable — & That Includes The Shopbop Accessories
Mike Coppola/Getty Images Entertainment/Getty Images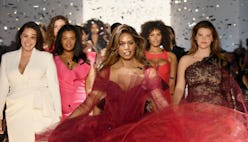 Tuning into New York Fashion Week can go from exciting to distressing as soon as you fall in love with an accessory you know you'll never be able to find. While waiting for a particular dress to become available is easy enough (relatively speaking), those seemingly one-of-a-kind shoes the stylists paired with the dress? Forget about it. Perhaps because both fashion-forward brands know the pain, a Shopbop x 11 Honoré partnership has bloomed that lets you shop NYFW looks straight from the most recent runway. And yes: You can buy Laverne Cox's entire show-stopping look, red tulle dress included.
As 11 Honoré's models walked down the runway during the brand's debut NYFW show on Feb. 6, shoppers around the world were invited to buy each look right on the brand's website — down to the earrings, handbags, and Stuart Weitzman Nudistsong sandals, which were all from Shopbop's well-stocked accessories selection. Each look was neatly organized in order of appearance, from the first $5,400 Christian Siriano Tuxedo Side Wrap Gown to the stunning $9,990 Tulle Off-the-Shoulder Gown by Zac Posen that Laverne Cox closed the show wearing.
It's a show-stopping entrance into NYFW for 11 Honoré, an online destination for shoppers sizes 10 to 20 looking for chic designer clothing. "Our partnership with Shopbop is a culmination of innovation, technology, and fashion," said 11 Honoré founder and CEO Patrick Herning in a press email. "The collaboration represents two retailers — who are honored to be part of creating a real change — coming together to better serve their customers."
Getting shoppers in touch with the looks they see modeled during NYFW is equally important to Shopbop, and it took its job of supporting 11 Honoré's clothing with the perfect accessories — and partnering with the clothing brand in general — seriously. "We are always looking for opportunities to innovate on behalf of our customer through unique partnerships that further the retail experience," said Shira Suveyke, Shopbop Brand President, in a press email.
"Our collaboration with 11 Honoré does just that," Suveyke went on to say. "Pairing their industry-leading assortment of size-inclusive apparel with our best in class selection of accessories."
You're still able to get all of the looks online even though the runway show's glittery confetti has landed. If you weren't there that day — IRL or digitally — just click over to 11 Honoré's website to shop the NYFW show looks.