These Cult Earrings Are Majorly Discounted In Roxanne Assoulin's Cyber Monday Sale
ROXANNE ASSOULIN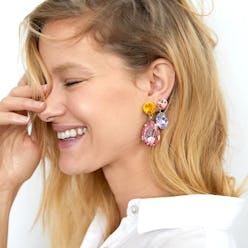 There are few jewelry brands who've made as big of a splash on social media as Roxanne Assoulin. The New York-based designer's vibrant, playful pieces have become a favorite among editors, influencers, and celebrities (seen on everyone from Linda Tol and Lucy Williams to Karlie Kloss and Gigi Hadid). And if you want to join in on the fun, you'll be very pleased to learn you're now able to scoop up the charming styles for so much less during the Roxanne Assoulin Cyber Monday sale.
From 12 a.m. ET on Dec. 2 until 3 a.m. ET on Dec. 3, the entire Roxanne Assoulin website will be 20 percent off, excluding the customizable bracelets (Just Say It, Spell It Out, and Pick A Number). And to score the savings, all you need to do is plug in the promotional code CYBER20 at checkout. If you've been eager to get your hands on Roxanne Assoulin's beloved signature tile bracelets, you'll want to add pieces like the Rainbow Brite Bracelet and the Fruit Stripe Bracelet to your wishlist — both are offered in several styles and sizes for different prices. Meanwhile, those who prefer more subdued shades can still indulge in a little self-gifting with this neutral colored enamel trio of bracelets that'll be down from $245 to $196 in the sale.
Another fan-favorite from the brand are the Hip-Hop But Not Earrings — a Swarovski crystal clip-on set that you can pick up in a slew of different color combinations. Regularly running for $120, the pairs will be down to $96 for a limited time; so it's the ideal moment to grab an eye-catching, jewel-toned mismatched duo for your upcoming holiday parties.
And though you unfortunately won't be able to snag the customizable bracelets at a discount for your loved ones, there are other styles included in the sale that'll bring a special touch to your gift, like the From The Heart Bracelets, which include sweet loving messages. You can also pick up three of the Alphabet Soup Bracelets (which will be reduced from $85 each to $68 each) to create a set of initials for your nearest and dearest.
The aforementioned pieces are just the beginning when it comes to this Cyber Monday sale. Continue on to begin scoping out styles for your jewelry box, and head over to the site to view even more.