The Outnet Just Added An Extra 50 Percent Off To Its Sale — Including These Gems From The Row
Shutterstock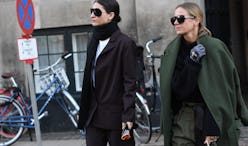 Plenty of internet sales will warn you that pieces are selling out fast. Oftentimes, it's hard to tell if that's true, or if you actually do have time to check your wallet before diving in. But as far as The Outnet's extra 50 percent off sale goes: it's real. The Row is on sale for an additional half off, as well as designers like STAUD and Fendi, so it comes as no surprise that this sale is going quickly. The Outnet's site indicates that some styles only have one piece left in stock — so if there was ever a time to run to a sale instead of walking, it's now.
All you need to do is browse, add to your cart, and check out ASAP; each sale piece's final discount price will be revealed in your cart. And with a little hustle and a lot of luck you can score deals that'll make your thriftiest friend jealous. Only one pair of these STAUD faux fur-trimmed culottes are left, in a size 10 — and they're marked down to just $54 from $198. Or spring for these printed Fendi pants, on sale for $258.50 from $1,150 with one pair left in Italian sizes 40 and 38.
The entire sale won't have you racing against the clock, though. The Outnet includes pieces that have more than enough sizes left in stock, and don't have the alarm-inducing "just one left" warning pop up when you click. You can pick up these equally cute STAUD crepe culottes, too, if you missed the brand's furry pair. Regularly $158, the culottes are discounted to $43 and have sizes 2, 4, and 6 left.
Although only a few of The Row's pieces are left in select styles — including this swoon-worthy silk-cloqué gown marked down to $533.50 from $3,050 — you can take you time choosing between this marled cashmere sweater or this crepe de chine top. However, since both are $1,000 or more off their original prices, no one could blame you for grabbing both. Once $1,290, the top is marked down to $290, while the sweater is on sale for $425 from $1,890.
Without further ado, ahead are 10 pieces to buy from The Outnet's sale. Click over to the brand's website to browse the huge designer sale after; The Outnet's website shows that over 3,000 pieces are an extra 50 percent off, and as you know, time is of the essence.