Dior Added This Signature Print To Its Couture Colour Lipstick & It's The Chic Upgrade You Didn't Know You Needed
Courtesy of Dior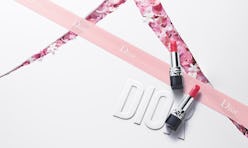 Finding a go-to lip color for the warmest months of the year is no easy feat, and with new hues seemingly hitting shelves each week, it can make selecting a fresh tube even trickier. That said, the newly launched Rouge Dior Limited Edition Couture Colour Lipstick may just be what your beauty shelf is missing. Packed with hydrating, vibrant color, the luxe lipstick will instantly brighten your complexion for day and night.
Ringing in for $37 a tube, this new lipstick from Dior is gorgeous in its entirety, from the summer-ready color to the delicate design. The brand incorporates the iconic Miss Dior fragrance houndstooth motif transforming into flowers by engraving it on the lively coral color itself — making the lipstick a truly stunning one, both on and off your lips.
However, while the intricate design is beautiful to look at, you'll want to bring this punchy color into your look ASAP. This lipstick promises 16 hours of streak-free wear, which is ideal given the sun is setting later and you'll likely be in less of a rush to leave post-work drinks. On top of that, you won't have to worry about your lips cracking or flaking, as the satin-finish formula uses a trio of key ingredients — natural mango butter, areolat samphira, and hyaluronic acid spheres — to keep your lips hydrated and looking full.
As for application? The brand recommends first lining your lips with Dior Contour, $31, and then using the Dior Backstage Retractable Lip Brush N° 31, $25, to precisely apply the color by working from the center of your lips outwards. But, to achieve a more intense pop of coral, you should apply the shade directly to your pout for a bold look that screams summer.
This time of year is known to be filled with more social gatherings than usual, and scoring a lipstick you can toss in your purse no matter the occasion is a real game changer for your beauty routine. Lucky for you, this shade may be exactly what your beauty bag is calling for this summer.