Sabina Socol Put A French-Girl Spin On These RIXO Dresses For The Brand's Latest Collab
Courtesy of RIXO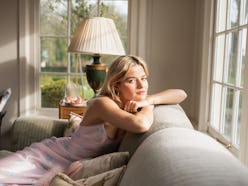 It's no secret that classic Parisian style carries that je ne sais quoi — otherwise known as the inexplicable and alluring sense of casual elegance — that the fashion world holds dear to its heart. However, there's something undeniably cool about the edge that comes with the London look. And when you combine the two, you end up with a fusion of styles that feels completely unparalleled. Such an idea may seem like one of sartorial dreams, but with the RIXO x Sabina Socol collection it's become a reality — and all with a '90s-inspired touch.
By now, you've probably heard of the London-based brand RIXO, whether it was through your favorite fashion editors or your Instagram feed. The It girl-approved brand — founded by Henrietta Rix and Orlagh McCloskey in 2015 — quickly made a name for itself as a brand to watch with its easy, timeless silhouettes and hand-painted patterns. Now, in its latest venture, RIXO is teaming up with Parisian influencer Sabina Socol to create a vintage-inspired collection that fashion lovers will want to add to their closets, stat.
According to a press release from the brand, the eight-piece collection can be described as "Cher Horowitz's '90s signature style meets Jane Birkin's '70s Parisian aesthetic." The capsule collection pulls inspiration from these two influential decades and features summer staples you'll be wearing throughout the season — including four breezy dresses.
"RIXO embodies what is fun and cool about English style. We connected as soon as we met, since we are both so attracted to vintage," said Socol in a statement. The co-founders of RIXO expressed the same sentiment and explained that this collection is a "mix of inspirations, interests, and references" that the three share.
Prep your summer wardrobe with the Sylvie Midi Slip Dress, $356.10. Featuring a pink and blue floral print, this silk slip dress is perfect for any occasion, whether it's a casual day spent outside or for your next date night. Style it with the Heloise Mini Feather Bucket Bag, which will effortlessly add a playful touch to your ensembles and costs $252.51.
For your everyday affairs, the smocked $187.76 Romy Frill Crop Top will be your go-to option. Pair it with your favorite high-waisted jeans or the Francine Flared Cropped Trouser, $239.56, to give your outfit a trace of the 1970s. And if you want to wear a single piece for the day, the $382 Clara Backless Maxi Jumpsuit will be a summer staple when styled with a pair of espadrille sandals.
The collection is available exclusively on RIXO's website, the Galeries Lafayette Champs Élysées in Paris, and at the brand's pop-up shop on Kings Road in London. If you're ready to start shopping, scroll down to see more of the collection below and then head over to these places to add them into your wardrobe.