Reformation Teamed Up With This Iconic Footwear Brand To Bring You A New Sneaker Collection
Courtesy of Reformation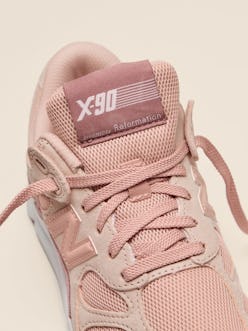 When a cult sustainable fashion brand partners with an iconic sneaker powerhouse, it results in an especially cool lineup of eco-friendly designs. A prime example, The Reformation x New Balance sneaker collection has just been unveiled and it features a colorful assortment of sporty styles with instantly-recognized details. Transformed for a cool retro feel, if this newly-announced collection is anything like the brand's other offerings, it's bound to sell out quickly. And while the collection isn't officially available for purchase until Oct. 10, you can join the waitlist now to be one of the first shoppers to slip into a new set.
Reformation is no stranger to the footwear category, with two seasonal shoe collections under its belt. However, the collection marks firsts for both brands — Ref's first range of sneakers and New Balance's first sustainably-led collaboration. The partnership resulted in the creation of three styles in five exclusive color-ways ranging from neutral-hued pairs to bold, multi-colored styles.
Starting at $80 and going up to $110, the collection's sneakers merged Reformation's sustainability expertise with New Balances beloved styles (including the 574 and X 90 sneakers) to create a range that not only feels fresh for fall but is environmental conscious. Utilizing both eco-friendly materials and practices, these sneakers bring a lot more to the table than just being fashion-forward.
When it comes to the construction of the sneakers, post-consumer recycled polyester was used in the lining, laces, and the labels, while the tannery utilized a chrome-free tanning method. As for the inside of the sneaker? The shoe inserts were made from a combination of EVA foam and BLOOM algae — a plant-based foam ingredient made with algae biomass, which helps to clean the environment while reducing the amount of fossil fuels traditionally used in shoe manufacturing.
With five sneakers to choose from, the collection offers up three styles for the more color-inclined and two for those who gravitate toward a neutral shade. But, no matter which sneaker you select, they'll all look just as good paired with jeans as they will with workout wear.
Convinced you need a set of these sneakers? Continue on to see the styles, and add your name to the waitlist to be one of the first to purchase when Oct. 10 rolls around. You'll also be available to shop the collection at Reformation retail store locations and online at New Balance.