The Reformation Sample Sale Is Officially Back — Here's What's Likely To Sell Out
Reformation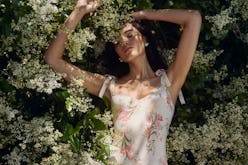 Could there be anything better than a sample sale? The answer is probably no — especially when you consider yourself a savvy shopper with a penchant for major discounts. If you've been itching to find another handful of noteworthy deals, you're in luck: The Reformation sample sale has returned for another round. And if this one is anything like the ones held in the past, it's going to be filled with some of the brand's best-selling pieces and more.
It's no secret that fashion lovers everywhere — including your favorite It girls and editors — adore Reformation for its on-trend and sustainable clothes and accessories. And considering the brand's knack for churning out some of the most popular designs on the market, there's no doubt that this sample sale is worth attending. However, you might want to brace yourself: With Reformation's cult following and history of epic sales, this is one where you'll need to seriously prepare yourself (and your wallet).
According to Bustle, one of Reformation's previous sample sales has had pieces marked down as low as $15, with some of its dresses (some of which can be over $400 at full price) down to $100. And while there hasn't been an official announcement covering this sale's details, you can expect similar prices.
With Reformation's track record of monumental sample sales, it never hurts to give yourself a head start and determine which parts of your closet you want to fill. If you're looking for a timeless dress to wear for any occasion, opt for the $98 Mary Dress — one of the brand's most popular (and most comfortable) dresses to date. Or, if you want to stock up on some easy tops for everyday occasions, you can't go wrong with the $128 Ludlow Top or the $58 Delia Top.
Of course, you can't go to Reformation's sample sale without checking out some of its formal dresses. For those of you who have weddings coming up this season, opt for the $218 Gavin Dress. And if you want something minimalist and classic, wear the Zinfandel Dress, $428.
The Reformation sample sale will be held at 260 Sample Sale's location at 150 Greene Street in New York from Sept. 17 to Sept. 22. Be sure to mark your calendars and set your alarms — this is one sale you don't want to miss.
To give yourself an idea of what you might find (and what to add into your closet), scroll down to see the must-have pieces that are likely to sell out.