RE/DONE Teamed Up With These Italian Designers To Create The 2019 Take On These Vintage Classics
Courtesy of RE/DONE x The Attico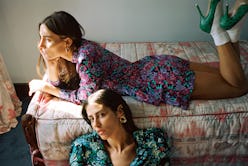 If hindsight truly is 20/20, then the RE/DONE x The Attico collaboration has perfect vision. The new collection — which debuts May 15 on RE/DONE's website — looks to reconceptualize not just styles from the '70s and '80s, but the very clothes made in decades gone by. It's RE/DONE's famous upcycling, meets The Attico's luxury Italian design, by way of genuine, sustainable vintage clothing the brands stumbled upon in Los Angeles. In so many words: It's a thrift store lover's dream.
"We wanted to explore our passion for vintage from a different perspective. This collaboration with RE/DONE gave us the opportunity to work with real vintage pieces in order to keep the authenticity of the product," The Attico's designers Gilda Ambrosio and Giorgia Tordini explained in a press email.
"We had an instant connection with Gilda and Giorgia. The quick friendship unfolded organically," RE/DONE's co-founder Sean Barron shared; years ago Barron helped create RE/DONE's sustainable denim empire, which repurposes vintage Levi's jeans into the hard-to-find silhouettes customers desperately want — and subsequently took off on social media. "Both of our brands are inspired by vintage designs and we knew right away that we wanted to create something cool together," Barron added.
You could just choose one bold piece from the collection — a one-of-a-kind upcycled vintage dress, a pair of Swarovski crystal-covered jeans — and style it to be minimalist and chic. The collection's '70s-inspired T-shirts, high-waisted denim shorts, and tailored paper-bag pants will be favorites of the on-trend dresser — and one that veers towards a sleek, pared-down style.
Courtesy of RE/DONE x The Attico
Courtesy of RE/DONE x The Attico
However, that isn't the only aesthetic celebrated in the collection; the look book's vibrant styling reveals a designer approach towards pattern-mixing, celebrating the vintage prints and influences, and daring shoppers to pair one of those floral dresses with tall, firetruck-red boots. (Or heels and white, ankle-high socks, or half-tucked into pants.) It's an exciting twist on RE/DONE's classic look, and one that'll certainly introduce a whole new market to The Attico's nostalgically glamorous style.
"We love the idea that our customers will own unique pieces that we reworked personally injecting our feminine touch. It was fun to add crystals, bows, crop the hoodies, drape denim pants into miniskirts, give cargo pants a sexy look," Ambrosio and Tordini said. "We envisioned a new different woman from the one that we usually reference with our own brand. RE/DONE + The Attico universe takes shape out in the streets of Los Angeles, one of our favorite places to go for inspiration and which we feel very close to."
Shop the RE/DONE x The Attico collab on RE/DONE's site, Barneys New York, and other select retailers. Ahead, stand-out pieces to score from the collection before they're gone.