R+Co Teamed Up With An Iconic Fashion Brand To Create Your New Favorite Haircare Routine
Courtesy of R+Co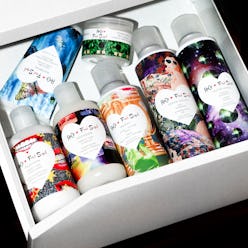 You may not realize that R+Co isn't just the brand behind some of the beauty community's favorite haircare products. It's also a collective of hair industry movers and shakers, and one that rarely changed — until now. R+Co announced in March that it was adding Los Angeles native and celebrity hairstylist Ashley Streicher to its ranks. Her first order of business? The R+Co x Fred Segal collab, a curated collection of Streicher's must-have haircare products dropping April 3.
Really, who knew R+Co's products could get any cuter? But adding collage-style, pop art-inspired designs by Fred Segal feels like a natural step for the brand; R+Co's regular packaging already looked like snapshots pulled from an extremely cool and followable Instagram page. However, fans may be even more excited to get what's basically a haircare shopping list from Streicher, who's worked with Mandy Moore, Sarah Paulson, and more. The R+Co x Fred Segal collab features seven dolled-up products, ready to be your new favorite hair routine: the DEATH VALLEY Dry Shampoo, OUTER SPACE hairspray, WATERFALL lotion, TROPHY shine spray, CONTROL paste, and the TELEVISION Perfect Hair Shampoo and Conditioner duo.
"I like to work the hair people are naturally given. The R+Co products are so broad; there is a product for every hair texture and type which is key because everyone's hair has different needs," Streicher said in a press email. "I love the gritty, fashion-forward perspective of this brand, it encapsulates what I am as a hairdresser."
But what drew Streicher — and the rest of R+Co — to Fred Segal's designs? It may be the brand's deep connections to all things retro California. (This is a brand that's been worn by Elvis Presley, Bob Dylan, and Farrah Fawcett.) "[T]hink rock 'n roll, unexpected beauty, dream states + surrealist LA landscapes," Streicher teased in an Instagram post before the collab dropped.
"For this collab we wanted to celebrate the heritage and fashion mindset — and mutual love — of Fred Segal," Daniel Langer, President of R+Co, explained in a press email. "As part of that, R+Co Collective member, celebrity stylist Ashley Streicher, chose a collection of R+Co products that was reflective of both her and Fred Segal's California aesthetic."
"For years, people have come to Fred Segal to both shop and be styled by people and brands who inspire them," Allison Samek, CEO of Fred Segal, said in a press email. "We are honored to be able to do this collaboration with R+Co — a brand that inspires not just Fred Segal, but everyone to express themselves freely."
If those words sound like music to your ears, just keep scrolling down; while it's still being loaded to R+Co's site, the entire R+Co x Fred Segal collection is ahead.