Here's Where To Shop The Prettiest Lipsticks From The 2019 SAG Awards
Frazer Harrison/Getty Images Entertainment/Getty Images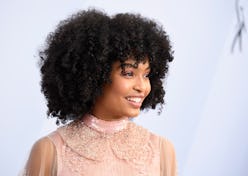 It's the final step in every makeup routine (and arguably the most important): lipstick. Whether subtle and understated or strikingly bold, your lip color has the power to make or break any outfit. So, go ahead and clear out some space in your cosmetic case for all the 2019 SAG Award lipsticks coming your way.
Celebrities who walk the red carpet of the year's most anticipated awards shows take their beauty looks very seriously, and the key to landing on that coveted best dressed list is, sometimes, a perfect pout.
Picking the right lipstick is often just as important as choosing the perfect shoes and jewels, especially when attending an event as big as the Screen Actors Guild Awards. Needless to say, the makeup artists behind your favorite attendees' looks certainly do not take it lightly.
Rachel Brosnahan's matte pink and Yara Shahidi's satiny nude are just a few of the hues that had viewers swooning during Sun.'s show. Many of the celebrities that graced the red carpet of the SAG Awards proved that you don't always have to go bold with your lip color to blow a beauty look absolutely out of the water.
The best lipsticks at the SAG Awards were surprisingly subtle — and you can find them all right here.