Here's What To Expect From The Highly Anticipated Prada For Adidas Collab
Courtesy of Prada x adidas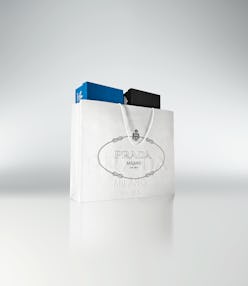 Luxury fashion house Prada and performance powerhouse adidas couldn't be more different when it comes to product offerings. However at the heart of each brand is a similarly well-defined pedigree and a thirst for innovation, making the highly-anticipated Prada for adidas collection an unexpectedly smart match. The collab was announced with cryptic Instagram posts from both brands, showing Prada's infamous shopping bag filled with adidas' distinct blue shoe boxes inside. And though the actual product has yet to be unveiled, you won't have to wait long, as the first offering will be available later this year — with a second in the pipeline for 2020. One thing fans of both brands already know: it's going to be worth the wait.
The launch of the collection is still a few weeks away, but the brands are beginning to share info about the partnership. According to both, the goal of this collaborative journey is to come together to explore the pieces in both archives and find new ways to use technology to enhance them. "The first step of this shared journey will debut this year, with the release of two limited-edition Prada for adidas styles that draw on the rich patrimony and iconography of both labels, representing a tribute to timeless classics," Prada shares via press release. The debut will be shoes for both women and men that will be made entirely by Prada's team in Italy.
Prada has been cultivating cutting-edge style that goes beyond trends for over a century, now. And with just about 70 years of experience under its belt, German label adidas has solidified its position as a design leader in the sports market. This joint innovation will be reflected in everything from the materials used — how they're made and the purpose they serve — to the evolution of the classic silhouettes into something that feel much more fresh than anything else in the market. The brands note a combined interest in sport, and Prada's Luna Rossa sailing team in particular as a point of collaboration for the two brands.
"This collaboration is built on an authentic fusion of fashion and performance, adidas' sporting heritage and visionary approach to technological development merges with Prada's world-renowned history in leather-goods and unparalleled perspective on luxury and quality, synonymous with the label Made In Italy", explains adidas' press release. The duo's combined appeal — not just for the streetwear set, but for luxury shoppers as well — guarantees that this collaboration will continue to gain buzz with each release.
On that note, as you could imagine, the limited edition pieces are expected to sell out fast. Luckily, you can add your name to the wait list now to ensure you don't miss out. Ahead are a few signature styles to shop in the interim.