Herschel Supply Co. Dropped A New Collection At Nordstrom & You'll Want To Replace Your Travel Accessories ASAP
Courtesy of Nordstrom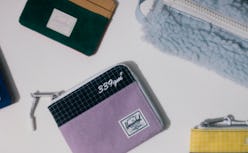 Well, it's already mid-August, and the official start to fall is just around the corner. Chances are, you've probably found yourself in awe of where the past few months have gone. That said, there are plenty of fall things to look forward to, from the launch of new arrivals from your favorite designers to beloved seasonal traditions. And among all of that, of course, are your travel plans. Whether you're hoping to squeeze in a quick getaway for a long weekend or are mapping out your travel calendar for the holidays, planning a fall trip can sometimes feel hectic. However, thanks to the new Pop-In@Nordstrom x Herschel Supply Co. collection, it's about to get a lot easier.
For those of you who aren't familiar with Nordstrom's rotating pop-up shop series — which can be a collection of products from a single designer or showcase a curated set of labels based on a theme — Pop-In@Nordstrom is a way for you to discover new brands online and in select Nordstrom locations. And now, Pop-In@Nordstrom is teaming up with Herschel to create an exclusive collection of bright and colorful suitcases, backpacks, belt bags, and more.
Inspired by world travel and music culture, the Pop-In@Nordstrom x Herschel collection — which was designed by Nordstrom's vice president of creative projects, Olivia Kim — features six collections of bags that were created to stand out. From colorblocked luggage and teddy fleece to '90s-inspired neon ripstop, there's no doubt that these pieces will add a cool edge to any trip you have in the coming weeks.
While one glance through this collection will immediately tell you it's not for the faint of heart, there are some pieces that even minimalists will love, such as the Small Grove Backpack, $70. Made with deep pile fleece, this '80s-inspired backpack will be perfect for fall. In case you want to go for a sleeker look, opt for the $80 Sutton Duffle Bag, which can be used for a weekend camping trip.
Looking to brighten up your luggage game? Get yourself the $260 Large Trade 34-Inch Rolling Suitcase — you'll have no problem finding this at the baggage claim. And if you want to maintain the nostalgia-inducing color-blocked look, add this sleek $35 Raynor Passport Holder into your travel supplies.
Scroll down to see more pieces from the Pop-In@Nordstrom x Herschel collection below.