PIERRE HARDY's New Capsule Features 13 Styles That Date Back To 1999 — Here's Where To Buy Them
Courtesy of PIERRE HARDY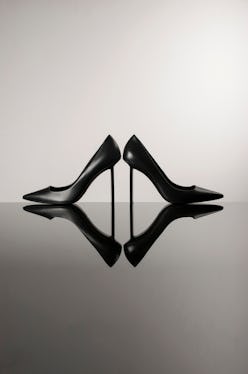 Few designers have truly mastered the art of the statement shoe. However, Pierre Hardy is one of them. Known for bold, sculptural, and colorful designs that evoke the same type of energy as the art movements, silhouettes, and architecture of the mid-century era, the French footwear designer and his eponymous shoe line have made a major splash in the fashion industry. Now, in celebration of its 20th anniversary, the label is bringing back some of its most iconic styles for the PIERRE HARDY x Barneys New York Capsule Collection. And without a doubt, these will be the perfect addition to your fall wardrobe.
It may be hard to believe that Hardy founded his brand at the turn of the millennium in 1999 with his classic Blade stiletto heel — a style that has become one of PIERRE HARDY's must-have shoes. Since then, the designer has built his brand on unique, stylish, and eye-catching pieces that'll add a cool and playful touch to any ensemble. Throughout its 20-year existence, there have been a handful of designs — including the Blade heel — that continue to resonate with fashion lovers like no other. And if you didn't get to wear these specific styles the first time around, you're about to get your second chance.
The Blade/Courtesy of PIERRE HARDY
The Jerry/Courtesy of PIERRE HARDY
With the PIERRE HARDY x Barneys New York Capsule Collection, the footwear label has gone back into its archives to re-release 13 signature designs that encapsulate the life of PIERRE HARDY. And as part of this capsule, the designer has reimagined the Blade heel from the brand's debut Winter 1999 collection to have a new shape for 2019.
The capsule, which ranges from $595 to $1,395, spans from the footwear label's inaugural collection to Winter 2017 and features a full range of heels, flats, sneakers, boots, and more. And with pieces like the classic black Marfa ankle boot from the Winter 2015 collection and the Pop Art-inspired Oh Roy! flats from the Winter 2014 collection, there's no doubt you'll find something for your wardrobe in this capsule — whether you consider yourself a minimalist to the core or a true maximalist at heart.
The Alchimia/Courtesy of PIERRE HARDY
The Sottsass/Courtesy of PIERRE HARDY
Ready to add these iconic shoes into your wardrobe? The PIERRE HARDY x Barneys New York Capsule Collection is available on the Barneys New York website as well as the retailer's Madison Avenue store now. Additionally, the revamped Blade heel is available on PIERREHARDY.com and PIERRE HARDY stores in New York, Paris, and Tokyo.