Paco Rabanne Teamed Up With The Webster To Celebrate Its Most Iconic (& Glamorous) Styles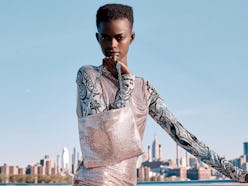 There are some pieces designers have mastered — or revolutionized — to the point where they've become recognized for the item. When you think of Chanel, you envision a polished tweed jacket, and Diane von Furstenberg has become synonymous with wrap dresses. For Paco Rabanne, it's the metal mesh dresses and accessories that virtually defined the 1970s disco era. And while the idea of chainmail mini dresses as a regular part of nightlife seems like a distant memory, the label is bringing it back once again for 2019 with the Paco Rabanne x The Webster capsule collection.
The exclusive collection — which is available at The Webster's site as well as its storefront in New York — features some of Paco Rabanne's most iconic styles with a tinge of the retailer's signature pink hue. According to a press release from the brand, the collection celebrates the "spirited, modern women" with its gilded pieces serving as a type of armor.
This is only a continuation of Paco Rabanne's focus on strong women. The Spanish designer (née Francisco Rabaneda Cuervo) first launched his brand in 1966 after working as a jewelry designer for major fashion houses. However, it was while he studied architecture that he began experimenting with unconventional materials, including metal.
Though Rabanne handed the reins of Paco Rabanne to French designer Julien Dossena in 2014, the brand's iconic designs continue to live on — this time, in reimagined versions that feel out of this world. Now, the brand is seen among fashion editorial spreads and It girls alike, reemerging with its shimmering and festive pieces for every occasion.
While you don't need a special event to wear one of Paco Rabanne's dresses, every time you wear the $6,400 Ruched Chain-Link Dress will undoubtedly feel like a party. If you want a dress for more casual situations, you'll feel undeniably cool in the $4,700 Chainmail Dress with a denim jacket and a pair of white sneakers.
Of course, you could always opt for the Pink Metallic Tank Top, $2,410. Wear it with layered over a white muscle tee and a cream midi skirt, or style it with the matching $3,000 Draped Mini Skirt, which can be worn for nights out. On the chance that you want to add an eye-catching piece to your everyday ensembles, you can't go wrong with the 1969 Pixel Bag, $950. As one of the most iconic pieces from Paco Rabanne, you'll be able to wear this with anything you own.
Ready to add some shine to your wardrobe? Scroll down to shop the full Paco Rabanne x The Webster capsule below.