15 Hidden Gems From The Outnet's Labor Day Sale
Hunter Abrams/BFA/Shutterstock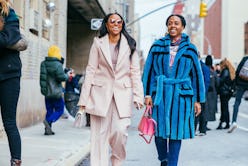 Not heading to some exotic beach for the holiday weekend? Here's a nice consolation: you'll be around to treat yourself to a little Labor Day sale shopping. Whether you're looking to kickstart your fall wardrobe refresh, or if you're very ambitious, to snag an on-sale swimsuit or pair of sunglasses for your winter getaways, I would recommend the first place you get to work be The Outnet. The online retailer's end of season sale starts Thursday, Aug. 30 and runs through Monday, Sept. 3 and includes 50 percent off of an impressive list of designers that range from Acne to Zimmermann.
Since sale shopping can be an overwhelming task to take on, even for the most seasoned shopper, I did the heavy lifting for you. Below, I'm highlighting 15 enticing designer finds that I would consider worth it at full price, but are even more enticing now that they are on major discount.
Consider these picks the hidden gems you may have overlooked when they first debuted, but are worth paying attention to right now (especially with their current markdowns). Now, the hard part will be resisting the temptation to buy them all (though hey, it's totally fine if you do).
A Party-Worthy Dress
Cozy Sweats
Statement Heels For Fall
This Floral Skirt
Your New Favorite Sunglasses
Heels That Make You Happy
A Fresh Take On The LBD
This Summery Knit
A Classic Work Dress
Your Next Going-Out Top
A New Take On Denim
A New Statement Bag
This Breezy Slip Dress
A Pretty Bustier
A Simple Wedding Guest Dress