THE OUTNET's 10th Anniversary Is Approaching & It's Celebrating With So Many Exclusive Designer Pieces
Courtesy of THE OUTNET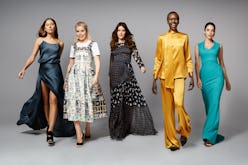 How did you celebrate your 10th birthday? If you were anything like THE OUTNET, it was with an exclusive Oscar de la Renta gown — and that's just one of over 95 pieces in THE OUTNET's 10th Anniversary collection. Starting May 14, the online designer outlet store is throwing the digital party of the year: It teamed up with over 35 iconic designers and brands, creating an impressively varied collection that spans seasons, aesthetics, and the globe. And the only place you can buy it is — of course — on THE OUTNET.
"2019 is a year for celebration and we are thrilled to launch this limited-edition collection. The brand has grown dramatically over the past 10 years and we are proud to say we have successfully redefined the luxury discount model," reads a quote by Emma Mortimer, Managing Director at THE OUTNET, in a press email. "This collection celebrates the strong relationships we have with our brands and we are excited to showcase a really varied, compelling, exclusive collaboration."
Creating such an expansive collection was not the initial goal, though. "We went to market with a brief to create 10 bespoke pieces to celebrate our 10th anniversary, approaching brands whom we already share close relationships with, and (very organically) have ended up with nearly 100 beautifully-crafted exclusive pieces!" THE OUTNET's Global Buying and Merchandising Director, Vikki Kavanagh, explains to The Zoe Report over email. "The response we received was phenomenally positive; we have cultivated these brand relationships over time, and it's created a lot of affection for our brand. Our much valued partners wanted to be a part of our special moment!"
And THE OUTNET has provided a few hints as to what the upcoming collection holds. Besides an exclusive, off-the-shoulder silk Oscar de la Renta dress, fans will be treated to Carolina Herrera peplum dresses, a mustard-colored silk Adam Lippes suit, and a flowing, shimmering Paco Rabanne dress made from mesh chains — just in case you need something to wear the following weekend.
"The vision we shared was based upon colors and silhouettes which we know our customer loves. THE OUTNET woman is feminine and striking, she has strength in her taste level and she knows what suits her," Kavanagh says. "Our brand partners absorbed the mood board and color vision, and created their own interpretations of the brief, based on much loved, iconic pieces from within their collections. We have resurrected historical bestsellers and introduced a new twist through colorways or prints."
THE OUTNET continued the theme of collaboration into the collection's campaign imagery, which features a lineup of bold, multi-talented women: Model and designer Alek Wek, lawyer and model Jessica Kahawaty, makeup artist and creative director Lisa Eldridge, mixed-media artist Quentin Jones, and singer-songwriter Paloma Faith.
At the end of the day, THE OUTNET's collection does tell one cohesive story. "The designers worked independently; however, we shared a vision in regards to ideal colors and bestselling bodies. Obviously working across so many brands we have produced numerous colors and prints within the capsule," Kavanagh notes. "So, whilst we didn't want to restrict creativity, we have tried to produce a 'common thread' in order to visually merchandise key stories together."
Keep an eye on THE OUTNET's website on May 14 for the 10th Anniversary Collection's release.