This Silky Slip Dress Is The Missing Piece In Your Holiday Party Wardrobe
The Outnet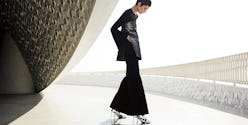 When The Outnet announces a collection with luxury womenswear label ELLERY, you not only stop what you're doing — you get mentally prepared to exercise your credit card. The online retailer has become a go-to destination for shopping high-fashion styles at a reduced price, so the exclusive The Outnet x ELLERY collection means you'll be able to pick up new styles from the fashion-crowd favorite at a wallet-friendly price point.
The collection launched on Nov. 8 and features a curated selection of styles that includes signature silhouettes Australian designer Kym Ellery is so known for (including her highly coveted flare pants and sculptural sleeved tops). Typically a similarly exaggerated sleeve blouse from the designer would run north of $600, but the two featured tops in the collection ring in at $348, making them even more irresistible.
As for why the designer chose to release this collection with The Outnet, Ellery explains that it was about giving past pieces new life. "The Outnet is such a wonderful avenue for releasing a collection in that it has such a unique and wide audience," says Ellery in an interview. "I wanted to partner with them because I felt like there were pieces in the archives of our collection that deserved another moment in the sun."
In terms of what's actually included, the collection features a mix of separates and dresses in innovative fabrics that can easily be worn from work-to-weekend and day-to night. "We wanted to make sure that the collection had enough diversity through it that would talk to many different types of women," explains Ellery. "The ELLERY woman is very ageless, she's intelligent, and she's looking for modern classics. So I wanted all the pieces in the collection to have those qualities as well."
While the collection was also made with the holidays in mind, Ellery chose fabrics that would lend themselves to both holiday festivities and everyday life.
"For me the holiday season is an opportunity to wear fabrics that are little bit more festive," she says. "I particularly love within the collection the lamé fabric shirt with an elongated collar. I thought that was perfect for party season because you could wear it in the evening to an event, but you could also wear it if you were traveling. The pieces are garments that I felt were easy, that would transcend different occasions, and would travel well."
And although every piece has a versatility to it that allows it to be worn on multiple occasions, many are also undeniably perfect for those chic, understated holiday-party looks that can be so hard to attain. The Silk-satin midi slip dress for $465 is the perfect example of this, with its sleek silhouette and stunning copper color. Or, for even more shine, opt for the $625 Sound And Vision strapless metallic checked jacquard top paired with skinny trousers and bedazzled shoes.
Those, of course, aren't the only items that'll make for the perfect holiday look. For more of the versatile pieces from this exclusive collection, keep scrolling for a selection of a few of the stunning designs or head to The Outnet for even more.