Here's How These Three Women Inspired & Other Stories Latest Co-Lab
Courtesy of & Other Stories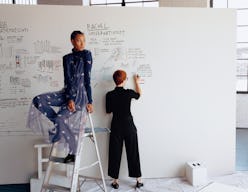 Data and design may seem like they live in different worlds, yet the & Other Stories x Giorgia Lupi Collection is here to show you how the two come together in stylish harmony. For its latest collaboration, the retailer worked with the information designer and data humanist (whose approach to data is focused on people and stories) to create a collection that highlights three women in science: a Mathematician, a Conservationist, and an Astronaut.
"For this collection, I was inspired by three remarkable women in science who paved the ground for other women to get started and thrive. It's Ada Lovelace, recognized as the first computer programmer in history, Rachel Carson, who spearheaded the environmentalist movement with her work, and Mae Jemison, the first woman of color in space," said Giorgia Lupi in a press release from the brand.
The 12-piece, ready-to-wear collection shows the accomplishments of the three women visually through prints that were hand-drawn by Lupi. "I used datasets about their major accomplishments as well as the most important information from their lives as a design material to create the patterns for this collection, beautiful visuals that also has a deep meaning behind them," said Lupi.
Priced anywhere between $49 to $349, the pieces in the collection bring the data-driven narrative to life in a very wearable way. In the mix, you'll find everything from everyday T-shirts and cozy sweaters to charming dresses and winter-ready outerwear (among other silhouettes) all of which feature Lupi's eye-catching designs.
"Our collection with Giorgia Lupi shares an unexpected take on how we can learn amazing stories," said Anna Nyrén, Head of Co-labs, & Other Stories. "She approaches data in a compelling and poetic way that represents people, stories and ideas, which is fantastic to be able to share with our customers."
These special pieces celebrating women in science are not to be missed. Continue on to see and shop a selection of styles from the collaboration, and head over to & Other Stories to view the rest —there's no doubt they'll make for great conversation starters.