The Ordinary's Cult-Favorite, Affordable Products Are Finally Shoppable At Ulta
Courtesy of The Ordinary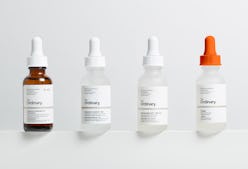 A little after 9 a.m. ET on July 1, The Ordinary's parent company Deciem finally sent out the newsletter fans had been waiting for: The Ordinary had officially landed at Ulta. Although you may've noticed the famous skincare brand's products days prior if you'd visited the beauty retailer's online site, the email announcement Monday morning was a reminder for anyone who may've forgotten to check over the weekend — or didn't know to begin with when the brand would be arriving. Though truthfully, The Ordinary's cult following have probably had the drop date written into their calendars since the partnership was first announced. (Deciem finished the newsletter by adding, "please go easy on us.")
Fans aren't just excited about getting their Ulta points, though. According to the popular beauty news Instagram @trendmood1, The Ordinary will also be arriving in 400 Ulta store locations Aug. 5 — something fairly new for the harder-to-find brand. While it had previously been available on Sephora's website and in-person at Deciem's stores, the expansion further brings the affordable skincare products to the masses.
And it's safe to say fans are delighted about swatching their favorite skincare brand IRL. When Deciem announced The Ordinary had arrived at Ulta via its official Instagram account, its video was watched over 20,000 times in a little less than one hour.
Suddenly realizing your skincare routine needs something new? You can already browse through The Ordinary's best-sellers at Ulta thanks to its devoted fanbase. Unsurprisingly, The Ordinary's famous Buffet serum has won a spot on the list; retailing at just $14.80, it contains a blend of skin-rejuvenating peptide complexes and moisturizing hyaluronic acid complexes.
The Ordinary's cult-famous glycolic acid toning solution also appears on the list. Known for its powerful ingredients and inexpensive price tag (clocking in at just $8.70 for an 8-ounce bottle), you can bet on it being a hit at Ulta: The exfoliating solution has received an 8.3-star rating out of 10 on The Ordinary's own website and a 4.6-star rating out of 5 at Sephora from more than 650 reviews.
Make sure you mark Aug. 5 on your calendar for The Ordinary's in-store Ulta release — because knowing its fans, products may sell out quick. Ahead, five fan-favorite products to know from The Ordinary.