If Your Skin Is STILL Oily In The Winter, Try These 7 Steps
Vittorio Zunino Celotto/Getty Images Entertainment/Getty Images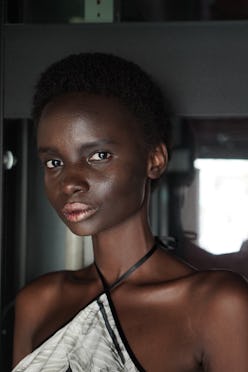 The naturally-oily have had it good lately: Never before has a sheen of sebum been quite so cool (see: the Glossier glow, the "glass skin" trend). But there's a fine line between glossy and greasy, and if your skin tends towards the latter, dermatologists have the exact oily skin routine you need to keep your complexion in check.
"Oily skin is determined by how active your sebaceous glands, aka oil glands, are," Dr. Joshua Zeichner, M.D., F.A.A.D., a dermatologist with Zeichner Dermatology, tells The Zoe Report. "These glands are located throughout the entire face and are controlled by your hormones. They produce your skin's natural oil, known as sebum. The more sebum your skin makes, the more oily you will be." Temperature and environment can have a small impact on your skin's sebum levels — which explains why everyone complains about dry skin in the winter — but really, hormone health is at the root of all oil issues.
Some other major oily skin myths? That you don't need moisturizing creams or face oils. "Skin oil and skin hydration can actually be two separate issues," Dr. Zeichner says. "Many people are oily and acne-prone, but the skin still can be dried out." In layman's terms: Yup, you still need a moisturizer. There's also no data that proves oily skin is more resistant to signs of aging, like wrinkles — so go ahead and add daily SPF to your regimen. You don't want to over-exfoliate in an effort to get rid of excess oil or breakouts, either. "You may have oily skin, but it does not necessarily mean that your skin is not sensitive," Dr. Zeichner says. "Be sure not to overly scrub," since that can create more issues down the line.
Finally, before Dr. Zeichner lays out his derm-recommended oily skin routine, he wants to make one thing clear: Topicals can only do so much. "Oil is controlled by your hormones," he reiterates. "While topical skincare products can help absorb oil and give a modifying effect, they do not decrease the amount of oil that you produce to begin with." He notes that lifestyle changes may actually be more effective than traditional skincare products in this sense. "Our bodies' stress response leads to a spike in the production of stress hormones, and these have an impact on our skin by revving up activity of our sebaceous glands, leading to more sebum," he explains. "Try to minimize stress if you already suffer from oily skin." (I mean, meditation has been shown to lead to a clearer complexion.) It might be a good idea to be mindful of sugar and dairy intake, as well, since both have been linked to hormone changes and skin issues.
Ahead, the seven-step regimen Dr. Zeichner recommends for those with oily skin. It might not reduce the amount of oil your body naturally produces — but it'll make it a whole lot easier to manage.
Cleanser
"If you have oily skin, look for foaming cleansers, which are more effective at removing oil as compared to hydrating counterparts," the dermatologist says. "Salicylic acid may be useful as well. It is a beta hydroxy acid that helps remove excess oil from the skin." Caudalie's latest gel cleanser is perfect for morning and night use.
Toner
"Look for toners that have astringent properties to provide the skin with a drying effect," Dr. Ziechner suggests, citing witch hazel as a favorite ingredient. You can use this just-launched mist twice a day, post-cleasing (or, if your skin starts feeling too dry, only at night).
Serum
"Glycolic acid is a great ingredient for people who have oily skin," he says. "It offers exfoliating, skin-renewing, and oil-removing benefits." Bliss Renew & Smooth Glycolic + Polyhydroxy Acid Night Serum recently launched, and it's best to use once or twice a week. (Because remember — over-exfoliating is not good for anyone's skin.)
Moisturizer
"Look for oil-free moisturizers that can help provide hydration without blocking the pores or leaving the skin feeling heavy," Dr. Zeichner recommends. "This Eighteen B moisturizer uses silk proteins to create a protective barrier over the skin and to help deliver hydrating ingredients like hyaluronic acid." Apply this moisturizer — which won a TZR Beauty Award! — a day.
Facial Oil
"Generally speaking, stick to light oils rich in polyunsaturated fats like Omega-3s and Omega-6s, like marula, flaxseed, and sea buckthorn oils," he says. "A new oil that just hit the market is the Ghost Democracy Soft Glow Facial Oil, which contains cottonseed and meadowfoam oils, both of which are rich in polyunsaturated fats and work well on oily skin." Add this to your routine in the evenings.
SPF
Every day, doctor's orders — not only to protect from cancer-causing UV rays, but to protect from future fine lines and wrinkles. KOA's new Anti-Pollution SPF45+ has antioxidants (to shield skin from pollution) and SPF (to shield from the sun) in one easy-to-use, non-greasy product.
Face Mask
"Ingredients like charcoal or clay are ideal ingredients if you have oily skin," Dr. Zeichner says. "They are ultra-absorbent and can help remove excess oil from the skin." Incorporate Saje's brand-new Clay Cleanse Purifying Mask into your lineup once a week.