This Cool New Collaboration Will Convince You To Add Clogs To Your Shoe Rotation Immediately
Courtesy of No.6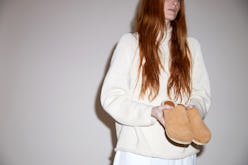 Let's be real: Fashion is no stranger to a polarizing footwear trend, and at this point, it's almost expected. Chunky sneakers are one of the most popular styles on the market, and soon enough strappy hiking-style sandals will be everywhere. All the while, clogs have quietly sauntered back into the fashion scene — and yes, they're the clogs you're thinking of. Like the aforementioned styles, the clunky wooden-soled shoe are often the type to leave a room divided. But if you were on the fence before, the No.6 x Lauren Manoogian clog collaboration might sway you in favor of the polarizing style.
To say this collaboration is a minimalist's dream come true would be an understatement. As one of the leading brands making a strong case for the wooden shoe style, No.6 has teamed up with Lauren Manoogian, the knitwear designer known for luxurious and ultra-soft everyday staples, to create a capsule collection of clogs for spring.
The shoes, which take on a decidedly different silhouette from No.6's original clog styles, will be available on April 17. However, these designs will still be recognizable to those familiar with either of the brands. Complete with a blonde wooden clog and two simple slide sandals, each style comes in a vegetable tanned leather or suede with five colors to choose from.
Since its launch in 2005 as a New York-based boutique, No.6 has garnered a loyal following for its handmade clog shoes, which feature stapled details along the edges. The shoes in the collaboration will be no different, continuing with the same style of manufacturing for each style. Prices for the shoes range from $290 to $325, and will be sold exclusively through both of the designers' stores.
The collaboration between the two designers feels like a natural one. Separately, they have committed to creating a capsule wardrobe for the modern shopper. With versatile pieces that can be worn again and again, each brand aims to bring its customers to a new level of casual polish.
While No.6 has earned itself cult-status with its clogs, Lauren Manoogian has gained an equal amount of attention for its neutral, everyday essentials like the thick-knit Capote Coat or organic cotton tops. Now, the brands have combined their minimalist sensibilities to produce a collection of shoes that will go effortlessly with anything you wear.
As the days continue to warm up for the season, buy a pair from the collaboration and give yourself a refreshing palette cleanse from the statement-making sneakers and sandals. Without a doubt, adding these chic clogs or slides to your spring ensembles will be as easy as taking a breath of fresh air.