This New Dior Fragrance Will Have You Wishing Fall Would Come Early
COURTESY OF DIOR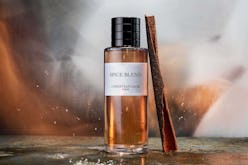 While you may not yet be prepared to say so long to summer, one spritz of the Maison Christian Dior Spice Blend fragrance will have you ready to pull out the sweaters, plan a weekend orchard trip, and throw some logs on the fire. The spicy scent manages to capture both warmth and freshness, making it the ideal fragrance to wear for cozy fall days. And, though there's still some time before the cooler weather arrives, this perfume is one you'll want to scoop up before the sun sets on summer.
Dior's latest fragrance is currently available online and will be in select department stores on Sept. 1. Offered in several sizes, the genderless scent's 4.25 ounce spray is up for grabs for $220, while the 8.5 ounce size rings in for $320. You can also opt for the 15 ounce bottle, which carries a $450 price tag.
"Spice Blend is the fragrant translation of an exotic image stemming from my childhood," said Dior Master Perfumer, François Demachy, in a press release from the brand. "This fragrance has a warm signature underlined by an unusual crowd of spices that meet and mingle. Spice Blend is like a whirlwind — but whether it stokes the fire or refreshes us is hard to say."
For this dynamic scent, rum accord was blended with spices from around the world — from the sharp lively aroma of Madagascan black pepper to the lingering woody smell of Bay St. Thomas from the Dominican Republic. Meanwhile, Indonesian nutmeg brings dry and peppery notes to the fragrance that meld with Russian coriander, and Madagascan clove essence plays well off the Chinese cinnamon's fruity, peppery, and vanilla scent. The ginger essence offers a note of sharp lemon, while cedar and musk fill out the base notes.
All of these components create a rich, spicy aroma that unfolds as you wear it. Fiery and fresh, the fragrance will take you from crisp fall days outdoors to nights wrapped in a blanket by the hearth. So, if you're after a new signature scent for the season, this one may be exactly what you're looking for.
Continue on to see and shop the latest fragrance to join the Christian Dior family, and head over to the site to view the additional sizes.