COS Is About To Drop A Capsule Of Archival Pieces — Here's When You Can Shop Them
COURTESY OF COS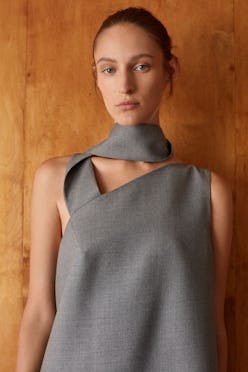 Modern, streamlined, timeless — all words often used when describing COS. It's those qualities that make COS a brand fashion girls seek out for those coveted closet essentials, which makes the timing of the soon-to-launch new COS capsule collection perfect for securing sophisticated styles for this season and beyond. However, these aren't just any elevated wardrobe staples, but a special lineup of garments the London-based brand has hand-picked from the archives and refreshed for 2019.
Come Oct. 14, COS will unveil a curated 13-piece capsule to celebrate the 100th anniversary of Bauhaus — an influential school of design, architecture, and applied arts open from 1919 to 1933 in Germany that created an artistic movement. This capsule will also mark the first collection in the brand's Archive Editions series, which highlights signature COS styles and the inspiration behind them.
Composed of six womenswear pieces, six menswear pieces, and one accessory, this initial collection focuses on archival styles that were originally inspired by the Bauhaus school and its affiliated artists. The selected archival styles were then modernized for current day, but they continue to remain true to the art movement by incorporating the geometric forms and shapes it was most known for. Additionally, the capsule's color palette of textured gray hues and shades of crisp white is an ode to the Bauhaus school building.
In terms of the womenswear pieces, you can expect to find tailored styles that incorporate design elements such as folding, draping, and darting. And though the styles reflect a minimal aesthetic, their structure and form will still provide for visual impact. Take the piece shown in the image below: Its clean silhouette is brought to life with the use of design techniques that make it have a distinct architectural feel.
The capsule collection will be available for purchase online and in select stores on Oct. 14. So, no matter whether you count yourself as a fan of COS or you're just in need of a few chic styles for fall, this is not a shopping moment to miss out on. Make sure to circle the date on your calendar in order to scoop up a style (or two) for your fall wardrobe.