You Can Now Get This MZ Wallace Tote With Josef Albers' Iconic Typeface (& It Supports An Important Cause)
Courtesy of MZ Wallace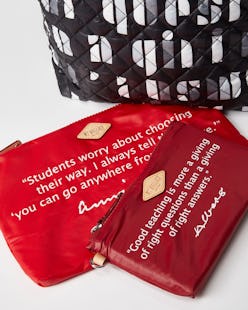 If you ask any fashion lover or savvy shopper why they buy what they do, oftentimes it's for the love of the design and quality of the materials used — or, they just wanted to add it into their closets. In other words, there's no specific reason. However, when there's an opportunity to buy something chic that also gives back, you'll be hard-pressed to find someone who won't want to take part. Case in point: the MZ Wallace x Albers Foundation Medium Metro Tote.
Luxury handbag label MZ Wallace, which is known for its sleek, quilted purses made for the modern woman, has partnered with the Josef and Anni Albers Foundation create an exclusive version of the brand's Medium Metro Tote to benefit Le Korsa, a non-profit organization that offers grants to institutions in Senegal.
The MZ Wallace x Albers Foundation Medium Metro Tote — which is available for $245 — is inspired by the Bauhaus movement and features quotes from each of the Albers, who were both artists during the iconic art movement. On the outside of the tote is a quote from Josef that reads "Good teaching is more a giving of right questions than a giving of right answers," in lettering designed by the artist himself. The bag also comes with two interior pouches, one of which quotes Anni, "Students worry about choosing their way. I always tell them, 'you can go anywhere from anywhere.'"
To benefit Le Korsa, 100 percent of the net proceeds from the sale of the tote bag will go toward the non-profit organization. More specifically, the profits made from the MZ Wallace x Albers Foundation Medium Metro Tote will go toward the Foyer de Tambacounda, a facility that allows young women to live in safe surroundings while they pursue a high school education.
"Empowering women has always been important to the MZ Wallace philosophy of giving back to the community, whether on a local or global scale," Monica Zwirner, MZ Wallace's co-founder and designer, said in a statement. "Ensuring that women have access to an education, and the opportunities that arise from it, is an impactful way to put this philosophy into action."
If you want to help support an organization working to provide education to young women, scroll down to shop the MZ Wallace x Albers Foundation Medium Metro Tote below.