These Travel-Friendly Pieces Are Comfortable, Stylish, & All On Amazon
Shutterstock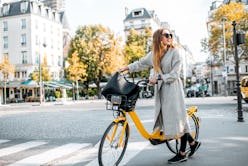 Amazon is a one-stop marketplace for travel gear and accessories. And thanks to its vast selection of apparel, it's a surprisingly good place for jet-setters to find fashionable travel clothes, too. The site has an array of stylish clothes that are wrinkle-resistant and even comfortable enough to wear during your flight.
The picks on this list were chosen for their packability, versatility, comfort, and style. All of these pieces can be easily mixed and matched so you have a solid rotation of outfits for your next trip. And, thanks to the wrinkle-resistant fabrics of which most of these clothes are made, you won't have to bother with the ironing board in your hotel room, but it'll still be easy to look effortlessly polished. Quality fabric options for a wrinkle-free wardrobe include polyester, spandex, knit, and cashmere. Cotton, rayon, and silk are more prone to wrinkling, but they become more travel-friendly when blended with those other wrinkle-free materials.
In addition to packing versatile bottoms, tops, and dresses, it's always helpful to keep layering pieces in your carry-on. When temperatures fluctuate, it's nice to have a cardigan, hoodie, or wrap to pull on and get cozy. Lightweight layering pieces are especially helpful for those who don't want to carry a bulky jacket while traveling.
Whether you're planning a relaxing beach getaway, jetting around a fashionable culture capital, or off to a business trip, it's time to head over to Amazon to stock up on fashionable travel clothes. With Prime shipping, many of these items can be yours in just a couple days.