This Monica Vinader Jewelry Collab Will Inspire You To Add Some Unexpected Color To Your Look For Fall
Nordstrom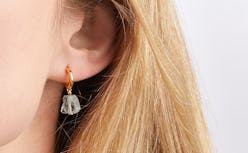 There will always be a time and place for classic, minimalist-approved jewelry, but every now and then it feels nice to give yourself a change of pace. And while you might think that would entail wearing head-turning statement pieces, it doesn't have to. Sometimes — particularly for those who consider themselves minimalists to the core — all it takes is a touch of color. And with new pieces from the Monica Vinader x Caroline Issa collab, you'll have a subtle rainbow of baubles to complement your fall ensembles.
If you haven't had the chance to familiarize yourself with Monica Vinader, the British designer is known for the craft in jewelry design and gemstones seen in her eponymous line. And now, she's come together with fashion icon Caroline Issa — who has a penchant for vibrant colors — to create a limited-edition collection of earrings, necklaces, bracelets, and more.
Ranging from $195 to $795, this collection was inspired by a recent trip the duo made to Jaipur and features a spectrum of raw, hand-cut gemstones such as amethyst, aquamarine, lemon quartz, and rose quartz. And for those of you who tend to stick to their neutral pieces, don't worry — these candy-colored gemstones may each have bolder hues, but they're subtle enough to wear with anything in your closet.
With so many beautiful pieces to choose from, it's understandable if you aren't sure where to start. But if you're looking for something simple to wear on a regular basis, start with the $195 Aquamarine Pendant Necklace. Wear it on its own or paired with the Gemstone Huggie Earrings, which are also available for $195. And when you want to wear something with multiple stones, opt for the Double Gemstone Pendant Necklace, $450.
If you feel like your jewelry collection needs something that makes a statement, get yourself the $795 Mixed Gemstone Necklace, which will instantly dress up a simple white tank top and high-waisted trousers. And if you loved the look of the iconic charm bracelet, this $495 Gemstone Charm Bracelet is the perfect, elevated version of the style.
Without a doubt, these pieces are an easy way to take on the rainbow jewelry trend for fall. Scroll down to see more from the Monica Vinader x Caroline Issa collection below.