Stutterheim's Iconic Raincoat Just Got A Very Stylish Update Thanks To This New Collab With Marc Jacobs' New Line
COURTESY OF STUTTERHEIM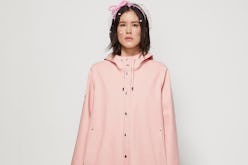 Though you may wish for a summer of only sunny days, it's sadly often filled with its share of thunderstorms and rain clouds, too. So if you've put off shopping for a raincoat for one reason or another, it's time to make sure those umbrella-losing, damp days don't follow you into the best season of the year. How? The Marc Jacobs' Stutterheim collab is here, and it's serving up two stylish coats that are equal parts fashion and function.
The Swedish rainwear company and the iconic fashion brand have come together to create the Stutterheim x The Marc Jacobs Raincoat. Ringing in for $450, the easy-to-wear style comes in two colors — a vibrant yellow and a pale pink — either of which are sure to become a mainstay in your coat closet.
For this exclusive collaboration, the duo gave Stutterheim's classic women's style called the "Mosebacke" a new look. The coat's understated design has been reworked to add special details that blend the style and heritage of both brands. On the back of the coat is an embossed New York logo, and on the sleeve is the American and Swedish flag, respectively, along with Marc Jacobs' signature name patch. On top of that, both coats feature a tone-on-tone lining and drawstrings that provide an added dose of color that's sure to brighten even the most dreary, gray days.
Handmade in a fully waterproof rubberized cotton fabric, these raincoats will not only have you looking good, but will keep you nice and dry, too. They even feature double welded seams for added wet-weather protection, so you can wave goodbye to those days of arriving to the office drenched.
Once you've added it to your wardrobe, match up your new raincoat with a set of the Rainwalker Rain Boots for $160. Although they're not part of this collaboration, the boot is available in black with a contrasting yellow as well as pale pink sole (among other colors), which will pair up nicely with your outerwear for summer showers. You can also scoop up the Beckholmen Waterproof Bucket Hat, $55, to bring this season's favorite hat trend into your rain gear, too.
Be prepared for the next big rainfall and shop a raincoat from the Stutterheim x The Marc Jacobs collab. There's no doubt you'll be sliding on this style on rainy days for years to come.