Lancôme Created A Luxe New Collection Of Fragrances & It's Like Stepping Into A French Garden
COURTESY OF LANCOME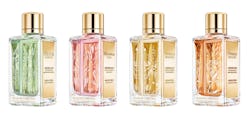 Ever wonder what your favorite garden would smell like if you could bottle it up? Would it be crisp or warm? Floral or woodsy? Now, while you may not be able to spritz the scent wafting around in your memories, you can experience those of accomplished perfumers through The Maison Lancôme Les Jardins fragrance collection. The newly released range of perfumes brings four new fragrances to the beauty brand's offering of scents that'll leave you feeling as if you're strolling about a French garden.
Ringing in for $175 a bottle, the collection was entirely made in France and is currently available for purchase both in stores and online. For this range, each fragrance was created by different perfumers who used their own inspiration and experiences from their favorite gardens to develop the scent.
For those seeking a fresh, lively scent for summer, you'll likely gravitate toward Figues & Agrumes — an aroma that'll transport you to a Mediterranean orchard with its notes of fig accord blended with hits of citrus and jasmine. However, if you're fond of patchouli, the Patchouli Aromatique may become your scent of the season, as it's a lingering base note in this fragrance. Layered with middle notes of delicate jasmine and spicy cinnamon with a top note of clary sage, this scent is described in a press release from the brand as "aromatic, spicy, floral, woody, and balmy."
As for the Magnolia Rosae? This floral blend brings together the scent of magnolia and hints of rose with the velvety aroma of white musk. It was crafted by perfumer Mathilde Bijaoui, who tapped into a childhood memory for inspiration. "When I was a child, I would go to my maternal grandparents' garden and sit on a bench beneath an enormous magnolia tree, which was spectacular when in bloom... I imagined a fragrance around the plump, velvety petals of the magnolia, a fragrance of skin and flowers," reads a quote from Bijaoui in a press release from the brand.
The final member of the group is Pivoines Printemps, the ideal perfume for those who enjoy a bouquet of peonies. The fragrance blends the fresh aroma of the flower with a dash of spiciness from pink peppercorns that, when combined with a base note of whipped cream accord, creates a smooth, sweet, summer-ready scent.
Making these four fragrances even more irresistible is their beautiful packaging. Each of the scents are encased in a glass bottle that not only boasts a pretty hue of either green, pink, yellow, or orange, but also features a floral illustration that highlights the main ingredient.
Continue on to see and shop the four new scents to join the Maison Lancôme fragrance family.