Madewell Just Added 6 Emerging Brands To Its Website — & There's An Interesting Reason Why
Madewell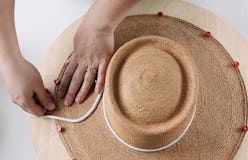 "I sew everything by hand, so that's where most of my time goes," Anna Zeitlin, the milliner behind Fanny & June, said in an interview with Madewell on the brand's site. She'd just been asked what a typical day was like at her Nashville-based hat brand; Zeitlin went on to say that, like most other professionals, she spends plenty of time filling orders, checking emails, and browsing social media. Whatever was typical before may be about to go out the window, though. Fanny & June just joined Madewell's Hometown Heroes Collective along with five other up-and-coming brands — a newly-expanded initiative which shares the hugely popular clothing and lifestyle brand's spotlight with emerging indie creatives.
It goes without saying that this is a big deal for the chosen artists. (After all, Meghan Markle's Panama hat from Madewell has been in her wardrobe for years.) The new collective is the next step for Madewell's Hometown Heroes program, which the brand has long since used to share emerging brands with Madewell's undoubtedly sizable online audience. In partnership with the arts nonprofit Nest, the new Hometown Heroes Collective — which officially launched March 26 — gives the chosen artists tools, business coaching, and the exposure necessary to go from locally known to globally recognized.
It works out for Madewell's customer base, as well — without the right stroke of luck, it'd be next to impossible to randomly find these one-of-a-kind pieces without Madewell. Besides Fanny & June's hats, the first wave of the collective includes Alex Clarke Woodworking, Brothers Design Co., Emily Elizabeth Miller, Heritera, and QuiltKween. Prices start out at just $7 and go up to $250, with the products online for a limited time.
Are you secretly able to quilt a gorgeous wall hanging, or create ceramic vases that look like modern pieces of art? Madewell has also listed instructions on its website on how to join the Hometown Heroes Collective. And are you more of a shopper than a maker? That's okay, too. Keep scrolling down either way — a few pieces from the incredible Hometown Heroes Collective are below.